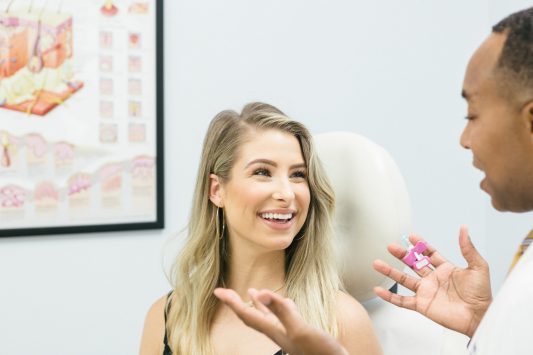 Microdermabrasion is the process of removing the invisible layer of skin that sits on the surface and holds oil, debris and other particles that can contribute to a flawed complexion. With SilkPeel Dermalinfusion, the solution doesn't just sit on top of your skin like a lotion or cream would. Rather, the SilkPeel machine delivers vitamins, antioxidants and other ingredients deep into the skin where they are needed the most. The combination of formulations is absorbed deep down where they will be most effective in brightening, clarifying, and hydrating your skin. SilkPeel Microdermabrasion enhances the benefits of exfoliation and the effects of the serums without the often uncomfortable and painful effects that people experience with other peels.
What Is It Used For?
SilkPeel Microdermabrasion is ideal for clarifying oily skin, jump-starting an acne regimen, evening skin tone, moisturizing dry patches, addressing fine lines and wrinkles. It also provides a brightening boost in preparation for a big social event. The procedure is relaxing and can be accomplished in an office visit. There is virtually no downtime, and normal activities can be resumed immediately.
Acne Scar Treatment
Here is an example of how SilkPeel Microdermabrasion can help with the appearance of acne scars. If you have acne scars and have not been getting results in other areas, SilkPeel may be the treatment you need! We have had countless successes with acne treatments, and yours will be no different.
How Do I Get The Best Results?
The best results are seen after a series of treatments spaced approximately one month apart. Many patients feel as though SilkPeel treatments are the best way to stay on top of acne, particularly after clearance has been achieved through other oral and topical medications. SilkPeel is also an excellent treatment when used in conjunction with chemical peels and laser treatments to correct sun spots and broken blood vessels.
Is It Invasive?
SilkPeel is a soothing procedure that is not invasive. Positive results can be achieved without the use of chemicals that can cause discomfort. There is no downtime with SilkPeel. Your skin will be comfortable and free of irritation and inflammation. This wet exfoliation takes only about 30 minutes to leave you with silky, smooth, hydrated, bright and youthful skin.
If you feel this is the right procedure for you, do not hesitate to fill out a new patient form. Be sure to take a look at our appointment policy before scheduling your appointment for a Microdermabrasion procedure.