The first and only FDA-cleared energy device for the treatment of mild to severe acne. AviClear™ provides long-term Resolution of Acne Across All Skin Types.
How does acne form?
To understand how AviClear™ works, it's important to understand how breakouts happen. Acne forms when sebum, the oily substance on your skin, combines with dead skin cells and clogs your pores.1 Most acne treatments target other things that cause acne, but not the production of sebum.2
The future of clear skin
A future without worrying about your acne. It could be three 30-minute treatment sessions away.
Target Acne at the Source
Engineered with an innovative wavelength, AviClear™ selectively targets and down-regulates the sebaceous glands to reduce active acne. Featuring an intuitive user interface and unique energy delivery, AviClear™ eliminates acne at the source without the need for prescription medications.
Clinical trials demonstrate that current and future breakout episodes are shorter, less intense, and more infrequent following the AviClear™ procedure. Further, acne clearance results continue to improve over time, demonstrating the long-term efficacy of this novel treatment.
THE AVICLEAR™ DIFFERENCE
Your clear skin future
AviClear™ specifically targets the source of the oily substance on your skin. After treatment, you will produce less oil and your acne will get better and stay better.
The Power of Light
AviClear™ uses the power of laser light to selectively target and suppress sebaceous glands, eliminating acne at the source without the need for prescription medications.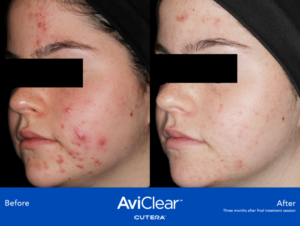 To learn more about the AviClear™ treatment offered by Skin Wellness, please call our office at 205.871.7332