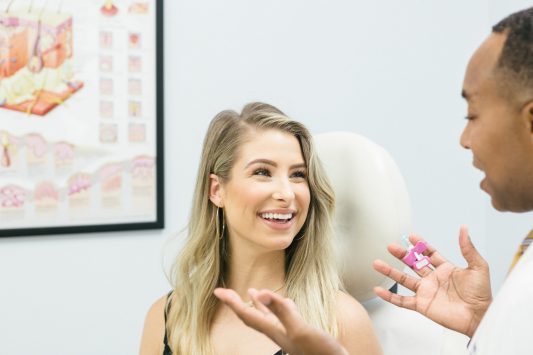 What Is A Chemical Peel?
Chemical peels are an underutilized, often misunderstood dermatologic treatment. A chemical peel is the application of a chemical substance directly to the skin that causes rapid skin cell turnover. This turnover is evident as peeling and scaling for days after the procedure is performed. The goals of chemical peels are as varied as the products used in the chemical peel procedure.
What Issues Can Chemical Peels Treat?
Superficial Chemical Facial Peels
Chemical peels are generally classified by their depth of penetration and can be divided into superficial, medium depth, and deep peels. Superficial peels penetrate to or through the very top layer of skin and offer surface improvements with minimal downtime. Sunspots, hyperpigmentation, fine lines, acne, and sun damage can be treated and improved cosmetically through the use of chemical peels. Since their improvement is gradual, best results are achieved after a series of treatments. Known as lunchtime peels, superficial chemical peels work well to quickly improve the texture, tone, and overall appearance of the skin with minimal interruption to one's life.

Medium Depth Chemical Facial Peels
Medium depth chemical peels are used to treat deeper lines, more persistent color irregularities, and to remodel collagen that can improve the appearance of acne scarring. The discomfort may be greater than that associated with superficial chemical peels, but the rewards are also greater. The results are long-lasting as well. Depending upon the damage that the peel seeks to correct, a series of peels are sometimes necessary for medium depth chemical peels. The downtime is somewhat longer for these peels as well.
Deep Chemical Facial Peels
Deep chemical peels are falling out of favor as many laser devices are now much more efficient at resurfacing the skin. Laser dermatology techniques are also a better choice too because they do not require the general anesthesia that traditionally accompanied deep peels.
At Skin Wellness Dermatology, our medical professionals provide a detailed consultation with each patient prior to the procedure to get a sense of exactly what he or she would like to improve their skin's color, tone, and texture. From there the appropriate peeling agent is selected with respect to skin type, risks, and benefits. Some of the peels performed at the office are Illuminize, Vitalize, Rejuvenize, Salicylic acid, Jessner's solution, Trichloroacetic acid, and V.I Peel.
Available on our LUXE Membership