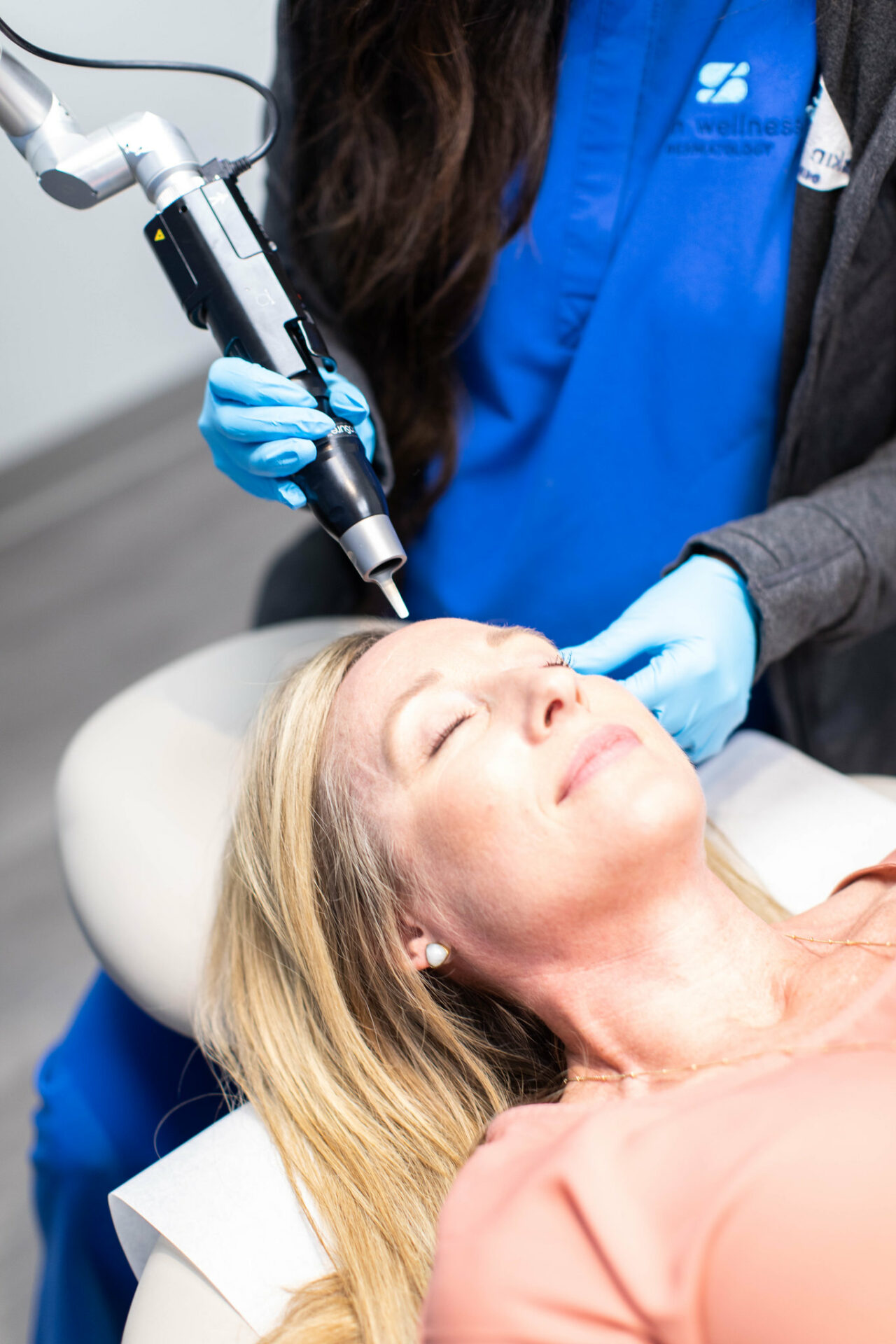 Laser Dermatology
Lasers have revolutionized aesthetic medicine and cosmetic dermatology. It has allowed dermatologists to achieve medical and cosmetic results that were previously available only through invasive procedures involving long downtimes and general anesthesia. Today's laser therapy allows treatment of wrinkles, discoloration, acne scarring, stretch marks, keloid scars, sun spots, melasma, and blood vessels, just to name a few. Our skilled and experienced medical professionals are able to rejuvenate your skin with minimal discomfort in the office setting.
The variety of dermatology laser treatments at Skin Wellness Dermatology is one of the largest in the area and can help you to achieve your skincare goals in a comfortable, yet state-of-the-art environment. From laser hair removal to reducing acne scars to treating other underlying skin conditions, laser treatment might be the answer for you!
If you have questions about your specific skin conditions or goals for laser treatments, our laser dermatology professionals are happy to provide you with concrete options. We're excited to help find the best solution for your medical or cosmetic needs.
What Our Clients Are Saying:
Dr. Hartman and staff were wonderful. My procedure turned out better than I could have ever imagined. They even called to check on me the next day. I will continue to spread the word about the office.

Elizabeth G.
In my teens I began having problems with my skin, as many people do. And after having my daughter I feared that she too would have to go through what I had. But after finding Dr. Hartman I no longer have concerns as to what the future holds for her skin. This doc is by far the best!!!

Kesha
It was a wonderful experience having great professionals do a great job on my face. Keep up with your GREAT work girls! Thank you!

Thomas K.
LOVE LOVE LOVE Dr Hartman… Not your typical.. wait for an hour for a 10 minute visit. He cares and takes his time with you. He is simply awesome. See you next month.

Leah T.