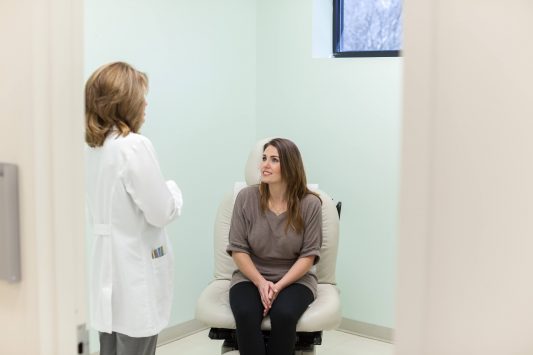 We are currently enrolling pediatric patients that suffer from atopic dermatitis in a clinical trial. 
What is the study?
The study aims to learn more about atopic dermatitis (AD) in children. Atopic dermatitis (also known as eczema) often causes skin to become dry, scaly, and very itchy. AD can look quite different from one child to another. AD is very uncomfortable for children and may have a significant impact on their self-esteem and social life.
We want to better understand AD in children whose skin condition cannot be well treated with topical therapies (creams or lotions) alone and may need to consider other treatments (such as pills, injections, or light therapy). We want to learn more about the therapies that doctors use to treat AD in children and how their condition affects them and their families in their daily lives.
What will happen during the study?
This is an observational study, which means our child will be treated in the usual way for his/her condition and will not need to have any additional tests. You and your child will attend his/her usual appointments with your child's doctor and your child will continue to take his/her regular medication, as prescribed by the doctor.
The only additional requirement will be that you will be asked to complete caregiver questionnaires describing how your child's condition affects him/her. Depending on your child's age, you also may be asked to help your child complete a participant questionnaire or to complete it on your child's behalf.
If the study is right for your child and they chose to take part, he or she will be in the study for about five years.
Why is the study needed?
AD is a long-term (chronic) condition that usually starts during infancy or early childhood. In children of all ages, itching can be so intense that a child cannot sleep.
There are treatments and self-care measures that can help relieve itching and prevent new flare-ups. Currently, there is limited information about how these treatments are being used by doctors to treat children with AD.
If your child choose to take part in the study, he/she may be helping us better understand AD, which could help other children with AD in the future. 
Who can take part?
Your child may be able to take part if he or she:
is 11 years of age or younger
is being treated for atopic dermatitis with pills, injections, or light therapy, or
is being treated with only lotions and creams (topical treatments), but still gets itchy skin when using these.
If you fit the outlined criteria and would like more information on being involved in the atopic dermatitis clinical trial, please email us here or call 205.871.7332 and ask to speak to our clinic manager.