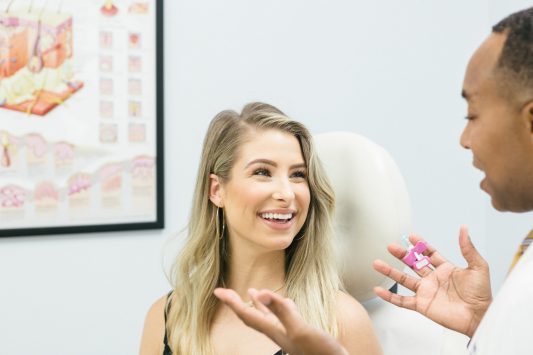 Also called fillers, soft tissue fillers, or soft tissue augmentation, dermal fillers restore our skin's youthful fullness that is lost as we age. Dr. Corey Hartman, who is a Board Certified Dermatologist, and his team at Skin Wellness Dermatology, offer a number of different fillers to reduce aging signs on the face, lips, and hands. With our wide selection, we can:
Rejuvenate facial contours by restoring volume to the cheeks, hollows under the eyes, and deep folds.
Reduce the appearance of scars.
Eliminate fine lines
Add fullness to the lips.
Lift a downturned mouth or lift the brows.
Restore a more youthful appearance to the hands.
Restylane, Juvéderm, and Belotero are composed of hyaluronic acid, a substance that naturally occurs in the human body. It is found in high concentrations in our joints and connective tissues, acting as a network to carry nutrients to our skin cells. When injected, the gel adds volume to the tissues and facial structures and draws water to the skin's surface, keeping it looking supple and fresh.
What is the Difference between Dermal and Injectable Fillers
Dermal filler treatments are delivered via an injection, which is why they are sometimes referred to as injectable fillers. Dermal Fillers and Injectable Fillers are one and the same.
Types of Dermal Fillers we Offer
Restylane – Adds fullness and volume to the skin to improve moderate to deep facial folds and wrinkles, such as nasolabial folds, which are the lines running from the sides of your nose to the corners of your mouth. It is also excellent for adding definition and fullness to lips, providing lasting results after just one treatment.
Restylane Lyft– Over time, the natural fat that surrounds the cheeks begins to deteriorate, resulting in sagging skin, more prominent wrinkles and a reduction of volume. Restylane Lyft is an injectable hyaluronic acid gel used to correct volume loss and treat wrinkles in the face. Through nonsurgical injections, Restylane Lyft is specifically designed to add fullness to the cheeks and midface area, which can result in a more natural-looking, youthful appearance.
Restylane Defyne– As we age, our skin loses elasticity and the lines that run from the sides of the nose toward the corners of the mouth (nasolabial folds) and the lines that run from the corner of your mouth toward the chin (marionette lines) become more pronounced. Restylane Defyne is crafted with XpresHAn TechnologyTM to correct these deepened lines. The unique cross-linking of the gel in Restylane Defyne is also designed to help support your facial expressions—for natural-looking results that help maintain your natural movement.
Restylane Refyne- As skin loses elasticity with age, the lines that run from the sides of your nose toward the corners of your mouth (nasolabial folds) and the lines that run from the corner of your mouth toward the chin (marionette lines) appear more noticeable. Restylane Refyne is a specifically formulated hyaluronic acid dermal filler made with XpresHAn TechnologyTM that helps correct these lines for a more natural look to your face. The unique cross-linking of the gel in Restylane Refyne is also designed to help support your natural expression—for real-life results that help maintain natural movement when you're smiling, frowning and even puckering up.
Juvéderm – Multiple problem areas can be rejuvenated with Juvéderm, such as vertical lip lines, smile lines, and wrinkles. It is the only HA (hyaluronic acid) dermal filler that has received FDA approval as lasting up to a year.
Voluma -Juvéderm Voluma XC is the first and only filler FDA approved to instantly add volume to the cheeks. It provides a subtle lift, restoring the youthful fullness of the cheeks and acting as a scaffold to lift the lower part of the face as well. Made up of hyaluronic acid, it lasts up to two years and is a member of the Juvéderm family of products. Best of all, the results are natural looking, there is no downtime and Juvéderm Voluma has been demonstrate to be safe for all skin tones.
Volbella – Juvéderm Volbella XC is used in the lips for lip augmentation and for correction of wrinkles around the mouth. It provides a smooth, natural result that restores the fullness of the lips and helps to improve the lip contour, smoothing vertical creases (smoker's lines or wrinkles around the mouth), and achieving symmetry – all in a single comfortable treatment. Juvéderm Volbella lip injections are recommended for smoother, softer consistency that mimics the natural feel of your lips for a longer time.
Vollure- Juvéderm Vollure XC softens moderate to severe parentheses lines and wrinkles by adding volume to the lines and wrinkles around your nose and mouth to produce subtle and long-lasting results for up to 18 months. Vollure is specifically tailored with a balance of gel firmness and low cohesivity, yielding a versatile formulation that adds subtle volume for the correction of moderate to severe facial wrinkles and folds.
Belotero – Like other HA fillers, Belotero treats facial wrinkles and folds, but it is formulated for use closer to the surface of the skin. It is excellent for superficial fine lines where the skin is thin, such as around the eyes and mouth.
There is no single right solution for every patient, the area to be treated, age and skin condition affect the choice of which product, or combination of products would be the best choice. In addition to our hyaluronic acid based fillers, we also offer Radiesse and Sculptra.
Radiesse – This water-based gel contains minuscule calcium microspheres, which are similar to naturally occurring minerals in our body. Radiesse adds fullness immediately, and stimulates the natural production of collagen, providing results lasting a year or more for many patients.
Sculptra – The main ingredient in this subtle treatment for shallow to deep facial folds and wrinkles is biocompatible poly-L-lactic acid. Sculptra provides subtle results that develop over time, rejuvenating your appearance gradually by helping replace lost collagen. Others will not know you have had an enhancement; they will just notice you are looking more youthful.
At Skin Wellness Dermatology, Dr. Hartman and Dr. Dyck cultivate a caring, trusting, lifelong relationship with each patient. They are concerned with the health and wellness of every patient's skin, and provides a vast array of services to provide the very best for each person who walks through our door. If you would like further information about any of our injectable fillers or would like to schedule an appointment visit our contact us page.