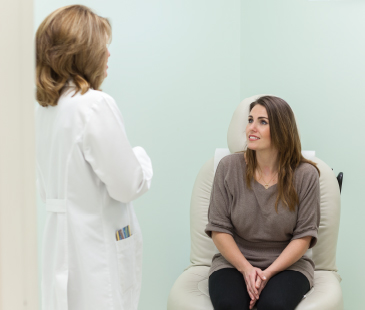 Do you want to drop a dress size or fit into your favorite pair of jeans? CoolSculpting is a fat-freezing, FDA-cleared medical treatment that targets stubborn fat — the kind that you just can't get rid of with regular diet and exercise. Here are three things that you might not know about this fat loss treatment, which is available here at Skin Wellness Dermatology.
CoolSculpting Actually Freezes Fat
"Instead of heating the tissue up like other devices, CoolSculpting freezes the fat and allows you to eliminate that fat through the lymphatic and urinary systems over the next three months," says Dr. Corey Hartman, founder and medical director at Skin Wellness Dermatology. This treatment is best-suited for people who lead a healthy lifestyle but still have pockets of stubborn fat. "There are a lot of people walking around with a little extra fat, but they don't mind it. You have to want to get rid of it before we recommend that you have an elective procedure like this."
CoolSculpting Is an Easy Procedure
With minimal discomfort and no downtime, CoolSculpting is perfect for people who just don't have the time for more invasive surgeries. "There is no downtime," explains Dr. Hartman. "There are no operating room expenses. There's no blood. There are no needles. No drains. It's a pretty easy procedure to have done without a lot of interruption to your life."
CoolSculpting Is Cheaper Than You Might Think
While some other elective surgeries can set you back tens of thousands of dollars, CoolSculpting is relatively cheap. You can even return to your normal daily activities straight after the treatment. "This is something that insurance won't pay for," says Dr. Hartman. "But I find that when most patients come in for a consultation, and we can tailor the procedure directly to them and give them an idea of what the cost is, they are generally very surprised at how affordable it can be."
Find out more about CoolSculpting at Skin Wellness Dermatology and schedule your FREE consultation today.