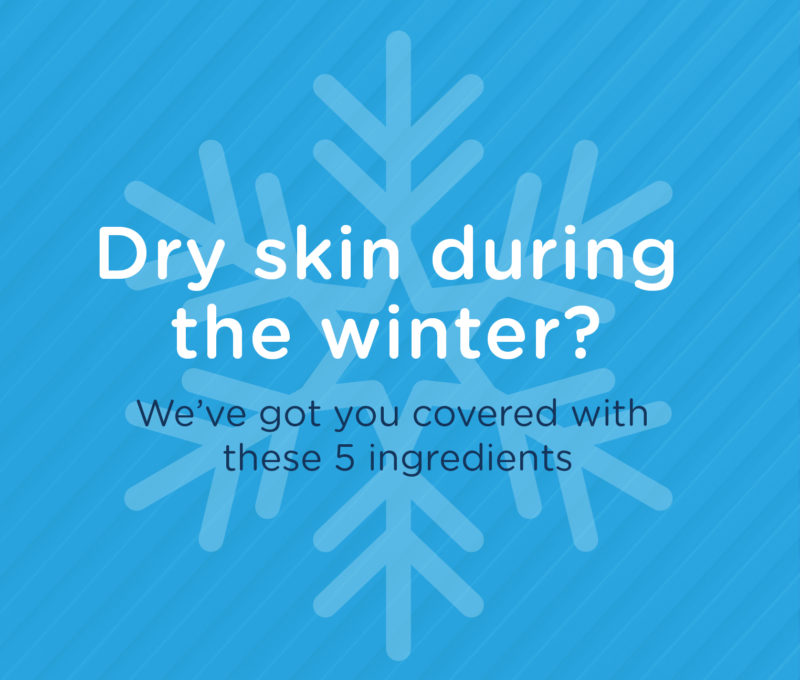 By: Dr. Corey Hartman, Skin Wellness Dermatology
During the winter, dry skin is probably the most common and maybe even one of the most bothersome skin conditions. During the wintertime, the drier air can suck the moisture out of our skin. And even things that we may not give a second thought like long, hot showers or our favorite soaps can make things worse. 
This is why many people experience not only dry, but itchy skin, and even cracks in the skin that can be quite painful. 
Sometimes dry skin may need some special attention, especially if you're suffering from an eczema-based skin condition, and this may just mean that you need something more like a topical steroid. But other times, simple over-the-counter ingredients can be all you need to have healthy, hydrated skin during the cold winter months. 
5 Ingredients to battle dry skin during the wintertime
1. Ceramide. Ceramides are the building blocks of the skin barrier, and they're crucial when it comes to maintaining the seal that traps hydration in the skin. So during the wintertime, they're going to help you retain that good moisturization.
Where to find it: Every moisturizer isn't going to have ceramides, but there are enough out there that they're easy to find. Just look for it as an ingredient. A good brand is CeraVe, and their whole line contains ceramides. They were actually the first line to put ceramides out there as an ingredient.
2. Glycerin. Everyone talks about hyaluronic acid, and you know that it's important, but glycerin is a "slept on" ingredient that's starting to get its shine. It's a humectant, which means it's a type of moisturizer that draws water to itself and helps the skin to stay hydrated. So it's a good hydrating ingredient that has gone under the radar for a while.
Where to find it: You can find glycerin as an ingredient in a bunch of products. For example, Cetaphil has a fragrance-free daily moisturizer, and La Roche-Posay has a hydrating soap-free cleanser, so there are a bunch of good ones out there.
3. Hyaluronic Acid. Hyaluronic acid (HA) has been a buzzword for a few years now, but it's very important because it's a humectant that can hold up to 1,000 times its own weight in water. While patients tend to love glycerin because it feels really good going on the skin, HA is also great to use. This is mainly because it's produced by our body naturally, and it's not known to cause any irritation, so anybody can use it, even people with sensitive skin.
Where to find it: HA is in several products. Just to name a few: SkinCeuticals HA Intensifier, SkinMedica HA5, which I love, and then a good over-the-counter alternative is the Neutrogena Hydro Boost. Neutrogena has made a big mark with that line that they released a couple of years ago. 
4. Free Fatty Acids or Fatty Alcohol. I know when people think of acids, they typically think of things that are bad. But when it comes to free fatty acids, think of it as a relative of cholesterol that provides essential oils, moisturization and hydration. They can be found naturally in the skin and help contribute to that healthy skin barrier that prevents loss of water through the skin. And they're extracted from plant vegetable oil.
Where to find it: My absolute favorite one is a pricey one, but it's beloved. Once patients put it on, it justifies the cost, and it's SkinCeuticals Triple Lipid Repair Cream, but you can also get it in a Kiehl's product called Ultra Facial Cream.
5. Lactic Acid. Lactic acid is an alpha-hydroxy acid that is extracted from milk, and it's known to be an exfoliant, which makes it a good adjunct ingredient to moisturizers. It's a humectant that draws water in, but it also helps to strengthen the skin cells, which can, in turn, strengthen the barrier. This allows products to fortify the barrier more readily and absorb into the skin in a more capable manner.
Where to find it: Lactic acid is in a bunch of things. A couple of good ones are the Amlactin lotion that's been used forever and Sunday Riley's All-In-One Lactic Acid Treatment. 
When you need to fight dry, itchy skin during the winter, you really have a bunch of options that are proven to give you the relief you need. Of course, if these don't work, you may be suffering from a winter skin condition that's a tad bit more serious, but for most, these five ingredients are just what you need that will do the trick.
Learn more about winter skincare from Skin Wellness Dermatology in Birmingham, AL
At Skin Wellness Dermatology of Alabama, we offer cutting-edge skincare and dermatology services to our patients in the Greater Birmingham area, including Hoover and Homewood. At our offices in Birmingham & Chelsea, AL, our certified dermatologists are here to listen to your concerns and offer the individualized, high level of patient care you seek. We believe in making care accessible and affordable, and we will go out of our way to accommodate your visit. Give us a call today at 205-871-7332.