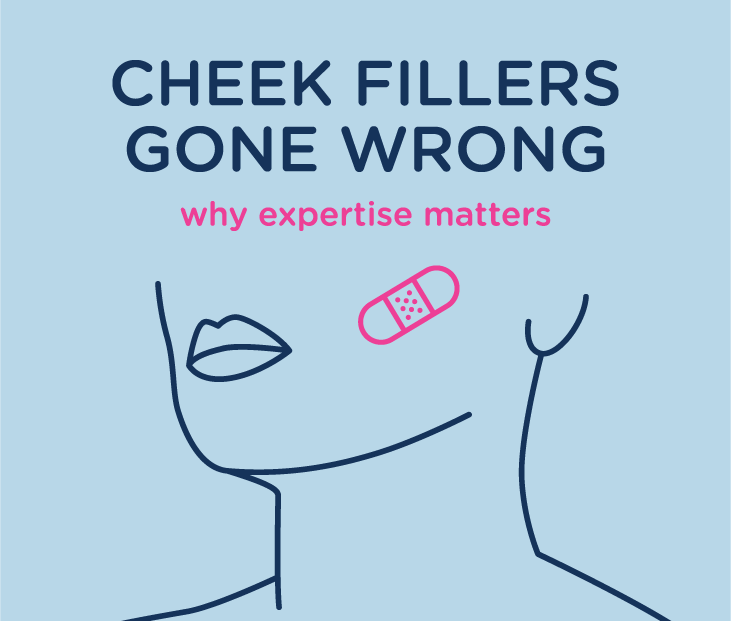 By Dr. Corey Hartman
Dermal fillers, especially in the cheek area, are incredibly effective for improving definition around the cheekbones and removing lines and wrinkles around the eyes, mouth, and jawline. When administered correctly, they give amazing results and create beautifully contoured, youthful cheekbones. However, if dermal fillers are administered by inexperienced practitioners, serious problems can arise.
Although dermal fillers are an excellent treatment for sunken cheeks when they are administered by a qualified professional, they can cause more harm than good if they are used improperly. Here's what could go wrong when cosmetic procedures like dermal fillers are misused, and some of the amazing benefits they can bring when administered by trained professionals with the right experience.
Undesirable Results
Injectables like BOTOX can have devastating effects when used in the wrong way. This is especially true for cheek fillers, which can cause serious long-term side effects if they are administered by an unqualified practitioner. Pillow face, for example, is a condition caused by dermal filler injections below the cheekbone. This results in an unnatural look where the cheeks and jawline take on a puffy appearance and can lead to other problems such as over-correction and asymmetry.
Sunset eyes, a condition that causes an eye to take on a drooping appearance, is another common side effect of dermal filler injections and, in some cases, can be a medical emergency.
Desirable Results
Although these negative effects can be serious, they only occur when dermal fillers are used incorrectly. When they are used by a qualified dermatology expert, the results are amazing.
Dermal filler treatments work by adding volume to certain areas of the face and increasing collagen production, which tightens and smooths skin. It can also help reduce fine lines and wrinkles. The results are natural looking and very long lasting if the correct filler is used in the right way for each individual patient.
During a standard procedure at Skin Wellness Dermatology, dermal fillers are injected into the desired areas by a member of our experienced team. Once the dermal filler has been administered, it takes just a few minutes for results to be seen. Usually, patients see an improvement immediately after the procedure and they can go back to their normal activities straight away. Patient care and experience are always the main priority, and we employ the latest in dermatology technology, so the whole process will be quick and simple.
The Difference
In recent years, the popularity of dermal fillers has skyrocketed. Back in 2010, 1.8 million procedures were carried out. In 2018, there were 7.4 million injections of Botox alone. As the popularity of these cosmetic procedures grows, more and more med spas and clinics are offering them. Unfortunately, this means that the number of unqualified or inexperienced practitioners is on the rise. So, it is more important than ever to do your research and find the right facility, with highly-trained medical staff if you want to get these injectables.
Cosmetic Procedures You Can Trust At Skin Wellness Dermatology
There is a lot that can go wrong with dermal fillers and you may have heard some horror stories. However, these dangerous side effects happen when the treatment is administered by amateurs without the proper training. At Skin Wellness Dermatology in Birmingham, AL, every member of our team has the necessary training and they have performed hundreds of these procedures in the past, with excellent results for our clients. So, there is no need to worry about dangerous side effects when you come to us for cheek fillers and other cosmetic procedures.
Schedule your cheek filler consultation today!
The benefits of BOTOX®  are practically common knowledge these days, but steps for proper aftercare are lesser known. To maximize the benefits and achieve the results you've been dreaming about, follow these and other aftercare steps. After your procedure, your provider will go into greater detail about how you can maintain the best benefits of BOTOX®. To schedule your BOTOX® appointment, or to learn more about BOTOX® aftercare, visit Skin Wellness Dermatology of Alabama online, or call us today at 205-871-7332.