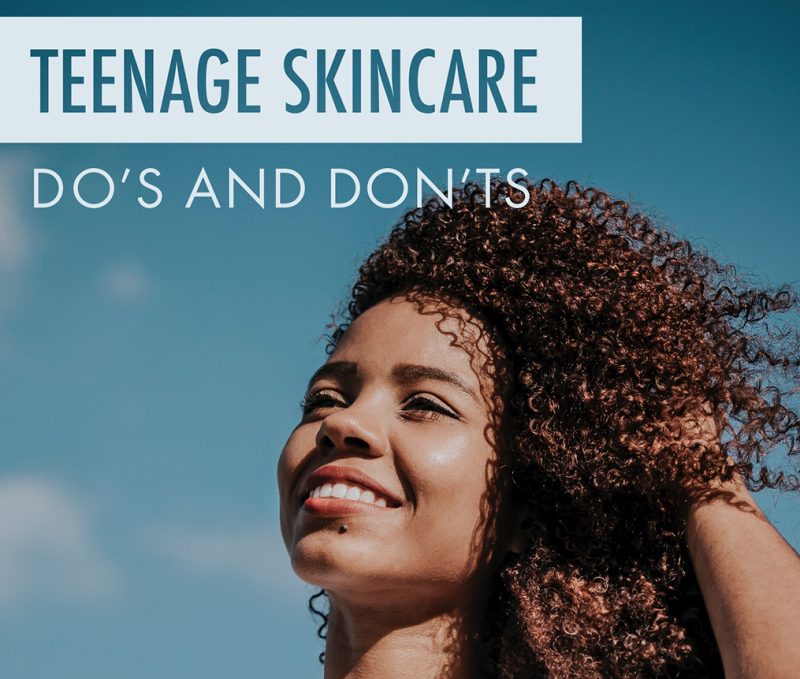 By: Brittany Rigsby, Skin Wellness Dermatology
There's no doubt teenagers often neglect the basics of good skincare. From regularly washing their face to applying sunscreen before going outdoors, it's so important to encourage them to get into these healthy habits early on. If you're looking for the best skincare advice for your teenager, here are the dos and don'ts that will truly help keep their skin looking youthful into adulthood.
DO wash the face twice a day. One of the best things teenagers can do for their skin is to simply wash their face with a gentle cleanser twice a day – morning and night. If this routine isn't enough, and they still have acne or problematic skin, they should see a dermatologist.
DO moisturize daily. Believe it or not, people that tend to have really oily skin are actually less likely to develop wrinkles. This means teenagers with regular to drier skin can help ward off wrinkles just by moisturizing each day.
DO use sunscreen daily. The number one thing teenagers can start doing to prevent wrinkles later on is to apply sunscreen every day before going outside. They should get in the habit of doing this every morning after they wash their face. I recommend using a sunscreen that has both UVA and UVB protection, as well as a 30 or above SPF. Teenagers with sensitive skin should use a sunscreen with zinc oxide or titanium dioxide, as these are specifically made for them. Also, if they'll be sweating or getting in water, they need to use a sunscreen that's water resistant, and also try to seek shade as much as possible when they're outside.
DO wash makeup applicators weekly. If your teenager uses brushes or other applicators to apply their makeup, make sure they wash them regularly. Otherwise, they're packing a lot of bacteria into their pores, and this can contribute to a variety of skin problems. I often tell my patients to use their fingers as much as they can and skip the sponges since they pack makeup in the pores.
DO wear a lip balm with sunscreen. To help keep their lips looking young and plump, they should start wearing a lip balm with sunscreen under their lipstick. Most people don't start doing this until they're in their 50s and 60s when their lips start to shrivel up.
DO wear your sunglasses. Wearing sunglasses with UVB protection can help prevent wrinkles around the eye area. Even if they're already wearing sunscreen, sunglasses can help protect this area even more.
DO get plenty of sleep. There's some truth to the term "beauty sleep." Even though most teenagers like to stay up late and forego sleep as much as possible, being well-rested is going to help keep their skin looking young and healthy.
DON'T over scrub the face. A lot of teens tend to over scrub their face when they start to see blemishes. Unfortunately, scrubbing isn't going to help anything and can actually make acne work.
DON'T smoke cigarettes. Along with countless other harmful effects, smoking is terrible for the skin, leaving users  with wrinkles and a general loss of firmness. You can tell when someone has been a really heavy smoker, and it's just one more good reason to stay away from these things.
DON'T tan. From aesthetic concerns like wrinkles to medical concerns like skin cancer, both indoor and outdoor tanning are bad for the skin. Even with everything we now know about tanning beds, they're still very popular among teens. Unfortunately, many don't realize how dangerous it is unless they know someone who has had skin cancer.
By teaching your child these important dos and don'ts of teenager skincare, you can help them achieve beautiful skin that will continue into their adult years. While many of us wish we'd started a healthy skincare routine sooner in life, there's no doubt, your child will thank you down the road.