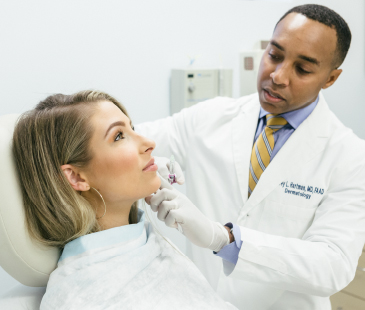 You're hesitant to use dermal fillers because you would be mortified if you came out looking like one of the "Real Housewives." We get it; we're in Alabama, not L.A., and the fake look it's what the majority of us are trying to achieve. Like most patients who come to Skin Wellness Dermatology of Alabama, you're just going for a more refreshed, well-rested look. When you go out, you want people to notice a difference without being able to put their finger on it.
While there's no doubt that you can achieve natural results like these with dermal fillers, just be sure to follow these four tips to ensure you get the look you want.   
Tip #1: Find a qualified dermatologist. The first, and by far the most important step in achieving natural results from fillers, is to find a certified dermatologist. You can typically learn about a doctor's education and certifications on the practice's website, and if you can't, that's a major red flag.
Tip #2: Find an experienced dermatologist. Just as important as the first tip, is finding a doctor who's done these types of injections time and time again. Seek out a dermatologist who does multiple injections every single day; not one who's going to be practicing their new techniques on you.
Tip #3: Discuss your desired results. When you first meet with the dermatologist about dermal fillers, make sure they understand the natural results you're trying to achieve. While most reputable doctors aren't going to make you look fake, it doesn't hurt to ensure you're both on the same page.  
Tip #4: Start with one area. Once you've found a dermatologist you trust, instead of having your cheeks, lips, eyes and forehead done during the first visit, just do one area. If you like the results, then go forward with the other areas you were looking to treat.
At Skin Wellness Dermatology of Alabama, we offer cutting-edge skin care and dermatology services to our patients in the Greater Birmingham area, including Hoover and Homewood. At our offices in Birmingham & Chelsea, AL, our certified dermatologists are here to listen to your concerns and offer the individualized, high level of patient care you seek. We believe in making care accessible and affordable, and we will go out of our way to accommodate your visit.