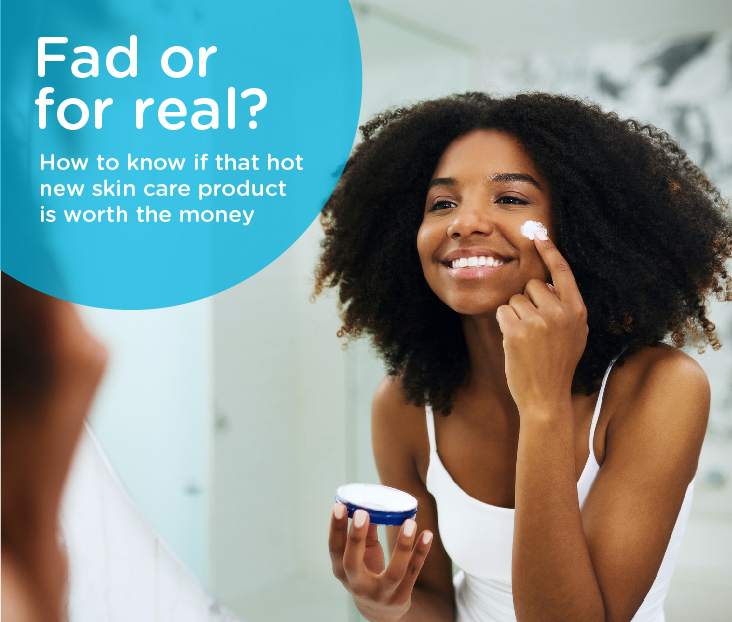 By: Dr. Corey Hartman, Skin Wellness Dermatology
Billions of dollars are spent every year by companies marketing their latest and greatest skin care products. Just about every week, we hear of a new "groundbreaking" product that's pretty much "guaranteed" to get rid of wrinkles, cure our blemishes, and make our skin look younger and healthier. 
We see these new promising skincare products, and we take note that some of our favorite influencers are even claiming these products are the real deal. (And don't get me started on celebrities creating their own skincare lines touting the benefits of olive oil. Yes, I'm looking at you JLo.)
There are some people out there who just can't help themselves. They must have these new products ASAP. But if you know me, you know I wouldn't recommend jumping on board with a skincare product that doesn't consider your individual needs.
Not only could it be a big waste of money, but it could be downright harmful to your skin. 
Is it a fad skin care product, or is it worth the money? Do the research. 
The next time you find yourself getting excited about a skincare product before you buy it, do your research. 
Could this be the perfect product to help you reach your skincare goals? Maybe so. 
Could this product be an absolute dud, or worse, aggravate your skin and cause blemishes? It could very well be. 
You just don't know, and that's why it's essential to do your research. 
Research the ingredients in the product. First off, look at the list of active ingredients. Are these ingredients you've heard of before? Do they have the research to back them? Science is everything, and if the science isn't there to prove the effectiveness of the ingredients, it might be just another fad product that you don't want to waste your money on. 
Look into the company that makes the product. New companies selling skincare products pop up all the time, and it's not that I'm against new competition in the market, but there's definitely something to be said for the companies that've been around for a while. More often than not, they're simply more reputable since they've had that time to prove themselves. 
More specifically, look into the company's product history. Does this company have any credibility in this particular area? Say you find that the company is known for antioxidants, but all a sudden, they're getting into the game of collagen-building. That doesn't quite jive. 
Most skincare companies were built upon one product that is sort of their marquee product. Eventually, they create these supplemental products around that one that isn't necessarily of the same quality or effectiveness. 
There are people out there that believe they need to use every product from the same skincare line, and that's just not true. It's actually to your benefit to use products from different brands that specialize in a particular area. 
Do the research – using reliable sources
The keyword here is "reliable." You can do some research on the company's website, but of course, they're in the business of selling their products and could just be telling you what you want to hear. 
A useful, reputable resource nowadays? Social media. Now, you won't often hear that social media is a reliable source, but it all depends on where you're looking. These days, there are a lot of dermatologists like myself who are really trying to put good content on social media. You just want to make sure the people you're listening to actually have some credentials to speak on what they're talking about. 
If you've heard about a new "must-have, miracle" skincare product, so have the dermatologists, and many of us aren't hesitant to speak our minds. Plus, we have the expertise, backed by proven science, to know if this is really something worth spending your money on. 
Learn more about skincare products that are worth the money from Skin Wellness Dermatology in Birmingham, AL
At Skin Wellness Dermatology of Alabama, we offer cutting-edge skin care and dermatology services to our patients in the Greater Birmingham area, including Hoover and Homewood. At our offices in Birmingham & Chelsea, AL, our certified dermatologists are here to listen to your concerns and offer the individualized, high level of patient care you seek. We believe in making care accessible and affordable, and we will go out of our way to accommodate your visit. Give us a call today at 205-871-7332.