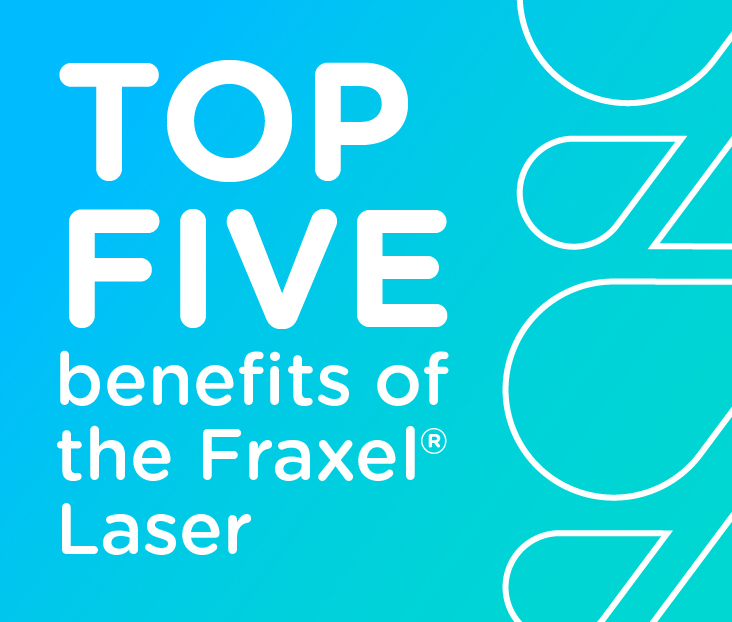 By: Dr. Corey Hartman, Skin Wellness Dermatology
The Fraxel® Dual Laser is a workhorse. Seriously, this device can do pretty much anything.
From improving the appearance of acne scars to treating melasma and taking years off your appearance, the Fraxel Laser is an overall crowd-pleaser.
The Fraxel Laser uses safe, non-invasive fractional laser technology and has proven itself time and time again with more than a decade of successful treatments. I've seen this laser achieve outstanding results, improving or even eliminating a variety of issues that can become extremely bothersome to patients.
The Top 5 Benefits of the Fraxel Laser
Acne Scar Treatment
For those with pitted scars, or other types of acne scars on the face like rolling or icepick scars, the Fraxel Laser is by far the most effective treatment option. It's going to penetrate the skin and break apart the scar tissue causing those textural changes. Trust me; there's no topical cream out there that can impact these types of textural scars.
Keloid Scar Treatment
Fraxel is even beneficial for getting rid of and smoothing out thick scars like keloid or hypertrophic scars. These are the types of scars that people often get after having been in an accident or after having surgery.
If you're the kind of person who tends to scar-like this, the problem is, you don't know how to stop healing. You probably have periods where the scar gets really tender and painful. In this case, the laser will not only help the appearance, but it seals the scar so that it doesn't continue to flair like that.
Stretch Mark Removal
I love the Fraxel Laser for stretch marks. It's the only thing that's going to soften stretch marks that are not red. If you have red stretch marks, you have to treat that with something different, but as far as the textural changes that come about with the thinning of the skin, Fraxel all day long.
Melasma Treatment
Often called the mask of pregnancy, Melasma is the hyperpigmentation that comes from hormonal changes but can also be caused by the sun and heat. Fraxel is a great treatment for superficial melasma and can work wonders when it comes to getting rid of hyperpigmentation.
Facial Rejuvenation
Though it's effective at treating a range of issues, the Fraxel Laser is probably most widely used to reduce wrinkles and tighten the skin. Its impact on overall facial rejuvenation cannot be underestimated. By stimulating collagen and elastin growth, it's going to smooth wrinkles and fine lines and reveal younger, brighter, and more vibrant skin.
Ready to renew your skin with the Fraxel Laser?
Depending on the issue you're looking to treat, patients typically need a series of treatments. Sometimes results are immediate, but within a few days, you're sure to see satisfying results that will continue to improve and last for years to come.
Just about every patient that's used the Fraxel Laser has been more than satisfied with the outcome. It's simply the best at achieving amazing results for a variety of bothersome issues.
H3: Learn more about the Fraxel Laser from Skin Wellness Dermatology in Birmingham, AL
At Skin Wellness Dermatology of Alabama, we offer cutting-edge skin care and dermatology services to our patients in the Greater Birmingham area, including Hoover and Homewood. At our offices in Birmingham & Chelsea, AL, our certified dermatologists are here to listen to your concerns and offer the individualized, high level of patient care you seek. We believe in making care accessible and affordable, and we will go out of our way to accommodate your visit. Give us a call today at 205-871-7332.