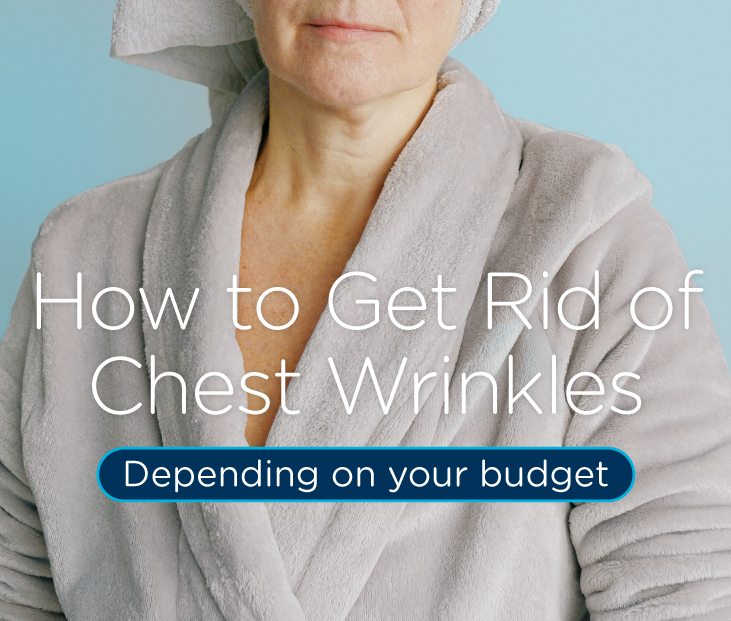 By: Dr. Corey Hartman, Skin Wellness Dermatology
While the main focus of the majority of my patients is their face, eventually, they're going to start noticing wrinkles on the chest. As we get older, the skin on our chest is going to show our age just like another part of the body, if not more so. 
Then once they start to notice their chest, the main reason it bothers patients is the color and the fact that it starts to get kind of saggy. This is why getting rid of chest wrinkles really involves improving both the texture as well as the color that starts to change along with it. 
Here are the best ways to get rid of chest wrinkles depending on how much you're willing to spend:
First thing's first. When it comes to the skin on the chest, the sun is a major determinant for how quickly it's going to age. That's why I always recommend patients use sunscreen not only on their face, but their decollete as well. No matter your budget, and even if you can only afford to do one thing – this would be it. Invest in a good mineral sunscreen and apply it to the face and chest every single day.
If you're working with a low budget: I would recommend you start using a retinol and an antioxidant cream. In combination, the retinol and the antioxidants are going to improve both color and elasticity. And just like I mentioned above, sunscreen is essential to this combination. We can't improve areas we aren't protecting against the sun in the first place.  
Using some of the neck creams can be helpful too because the chest is sort of an extension of the neck in the fact that it's almost the same as far as the anatomy of that skin. 
These are going to be your intro-level, lower budget fixes. They're not as much of a financial commitment, plus they're going to be a part of all the other treatments we discuss later on, so it's always good to have these products in place. 
If you're ready to go to the next level with a medium budget: We have a couple of options – IPL (Intense Pulsed Light) or BBL (BroadBand Light.) These can both help with texture and getting rid of the visible sun damage as far as color, and they're only a few hundred dollars. 
Then, there's a higher middle budget option, which is Fraxel. Fraxel's going to help with color and also texture in terms of crinkling and wrinkling. 
Some of this wrinkling comes from sleeping, but when we start talking about how things like facial expressions, drinking out of straws, and sleeping affects wrinkles, I just can't go there. I don't want people to ever be in a position where they feel like they have to limit their lives to prevent wrinkles. That being said, it's not that serious but it does impact it to a certain degree. 
I mean, who wants to sleep on their back all the time? That's not living. 
I have patients who come in and do Fraxel once a year so it doesn't have to be a big time commitment, and it doesn't have to be something you're spending a whole lot of money on. 
But that little by little, and paying attention to it every now and then, gets rid of those wrinkles and keeps them where they want to be. Plus, it's only a little down time so that doesn't hurt either.
Now if you have a higher budget: I'd recommend Sculptra, which is a biostimulatory filler that is getting to be more and more popular. It is a bit more pricey than our other options. A typical face costs about $3-4,000, so the chest, which is a little bit bigger, is in that price range, maybe a little bit more. 
But if your chest really bothers you, a product like this will stimulate collagen growth and stop the crinkling and wrinkling. It won't really have any impact on color, but if your main issue is the texture and tone of skin, then Sculptra is a great option. 
Choosing the best option for getting rid of chest wrinkles
We have a lot of great options available to get rid of chest wrinkles, and really, it depends on your budget. Depending on how much you're willing or wanting to spend, will ultimately decide how quickly and effectively you're able to get rid of chest wrinkles. 
If you're ready to get rid of chest wrinkles and have the budget to get immediate results, by all means I encourage you to go all in! But don't worry if you're not; a small start is better than nothing and will definitely get you some great results in the long run. 
Learn more about getting rid of chest wrinkles from Skin Wellness Dermatology in Birmingham, AL
At Skin Wellness Dermatology we offer cutting-edge skin care and dermatology services to our patients in the Greater Birmingham area, including Hoover and Homewood. At our offices in Birmingham & Chelsea, AL, our certified dermatologists are here to listen to your concerns and offer the individualized, high level of patient care you seek. We believe in making care accessible and affordable, and we will go out of our way to accommodate your visit. Give us a call today at 205-871-7332.