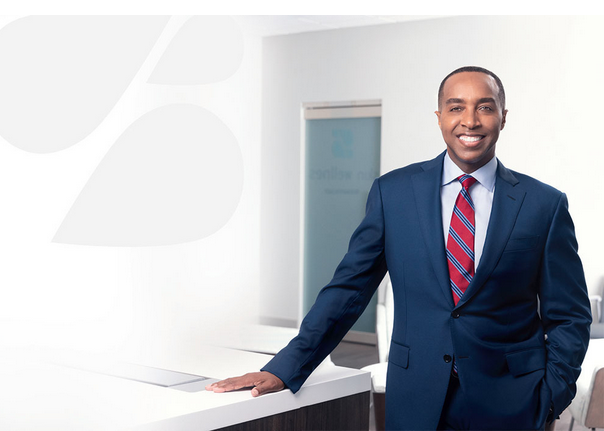 Corey L. Hartman, MD, has built two bustling practices in Birmingham, Alabama, thanks to his focus on delivering beautiful and natural-looking results to patients of all ethnicities.
Growing up in New Orleans in the early 1980s, Corey L. Hartman, MD, owner and founder of Skin Wellness Dermatology, felt there were only two options for success: become a doctor or a lawyer. "I knew my career options were limited as a young black boy in the deep South and I wanted to be successful," he says.
His decision to pursue a career in medicine was accelerated by his neighbor, dermatologist Errol Quintal, MD, who came to be a lifeline of inspiration over the years. At the time, he was the only black dermatologist not only in New Orleans, but in the state. Dr. Hartman became intrigued by his success and started following his career. "I saw that I too, could be successful as a black man in medicine. He really inspired me to become what I am today," he says.
Dr. Hartman received his bachelor's degree in psychology from Emory University and, following in the footsteps of his mentor, chose to attend the small campus of Meharry Medical College in Nashville, where he could be "deliberate in getting what I needed to succeed." He then pursued a medical internship at Tulane University in his hometown where he reconnected with Dr. Quintal and lobbied to accompany him on his rotations. While he explored various specialties, none of them spoke to Dr. Hartman like dermatology. "Because I had an artistic side and a good eye, I saw it as the perfect field to marry science and artistry. I like the visual nature of dermatology and the ability to grow with a patient throughout their life," he says.
THE NEXT STEP
Dr. Hartman chose to do his medical residency in Birmingham at the University of Alabama with a bit of hesitancy. He wasn't sure the city was progressive enough for him and noticed that most of the other enrolled came directly from the undergraduate college. He decided to take a chance when he learned the new chairman wanted to develop a more nationally recognized program and by thinking he'd only be in the city for a short time.
As luck would have it, he soon met his future wife who lived in the same apartment building and was doing her orthodontic residency in Birmingham. Once they got married, they planned to move to New Orleans so Dr. Hartman could begin his dream of working with Dr. Quintal. That year, however, Hurricane Katrina ravaged the Gulf Coast, and the city was suffering. It was too difficult for his wife to start orthodontic work in a new state and for him to begin working in dermatology in a place where people were struggling with basic needs. Deciding to stay put turned out to be the right decision. He joined a multi-specialty group of dermatologists, which gave him the confidence and inspiration to eventually open his own practice.
In 2009, the Hartman's first child was born and Dr. Hartman opened the doors to his new practice, Skin Wellness Dermatology, with four employees. "Now, 14 years the later, Birmingham is a very different city; the people are young and vital," he says. Meanwhile, he continues to leverage his practical expertise as an adjunct clinical professor of dermatology at the University of Alabama's School of Medicine where third year medical students are mentees. He enjoys giving back this way because "I had a mentor. I want to be an inspiration to young derms and help them grow and learn how to succeed," he says.
GROWING THE BUSINESS
The Birmingham community responded well to the fledgling practice and word was spreading about both its clinical and aesthetic dermatology capabilities. His nurse practitioner started seeing patients twice a week to support the increasing demand. In four short years, it became apparent that a bigger space was needed, and he set about sourcing other qualified dermatologists and nurse practitioners. "Finding the right people for key roles is paramount. Negativity is hard to root out, so I like to avoid it from the beginning," says Dr. Hartman when asked about hiring.
As a self-described easy-going person, he acknowledges that managing people has been the hardest part of practice management. "I like to delegate to people I trust. I'm lucky to have an amazing office manager, a clinical manager who's an RN and a research study coordinator for clinical trials among my staff. I like to keep good people around and most have been with me for seven years or more. I can't be everywhere, so I hire well and then let them do their jobs," he says.
Potential hires spend a half day in the practice shadowing staff to determine if they are a good fit. "This really shows us how or if someone will mesh with the team," says Dr. Hartman.
FINDING YOUR SWEET SPOT
Based on the unique demographics of Birmingham, Dr. Hartman organically developed a niche for preserving and enhancing individual, natural beauty instead of "falling into the trap of making everyone look the same," he says.
He is adamant that serving patients across the spectrum of ethnicities is what keeps people coming back. He also commends the suppliers in the industry for adjusting their marketing to include models of color and diversity. "I like being a part of companies that interact with the public. Black people have gotten on the aesthetic bandwagon more in the past five years than ever before. Companies are now taking notice and addressing how they age differently," he says.
Dr. Hartman also believes the notion that no one fits into a mold of aesthetic beauty even while the industry glorifies and sets standards on the golden ratios or mathematical geometry of beauty. "These ancient standards, while aesthetically pleasing, don't take into account nuances of beauty in ethnic groups and varieties around the world," he says. "I want to respect what a patient is coming in for, what they desire in achieving their look and honoring those wishes rather than typical standards of beauty."
He notes that while the practice treats a wide range of consumers, they do see more people of color than others in the market. This helps the word spread in a town that is becoming more cosmopolitan while honoring its traditional southern roots.
He has become so sought after for his cosmetic work, that the only new patients he currently accepts are for aesthetic enhancements; new clinical dermatology patients are seen by his other practitioners. In addition to word-of-mouth and patient referrals, Dr. Hartman credits social media with growing his business in recent years. He enjoys posting to his Instagram account to let people into a portion of his personal life. When they know more about him and his personality online before they come into the office, "They know a bit about me, so the walls are down and there's less getting to know you in the initial consultation," he says.
GROWTH IN CHALLENGING TIMES
In October 2020, Dr. Hartman bought a second location as an extension for Skin Wellness, hiring three dermatologists, two nurse practitioners and five estheticians "who are great additions and bring their own revenue source," he says. The larger building allows the team to serve more patients and provide a wider range of laser and cosmetic procedures.
At first, the timing could not have been worse because the country and nonessential businesses, specifically, were struggling through the Covid-19 pandemic shutdowns. However, the slowdown of the economy allowed him to focus on hiring the right people, sourcing a premium location and hunkering down for some much-needed quality family time. "Building out a new office during a pandemic was tricky. Looking back, we were actually lucky to do it at that time because amazingly things fell into place," he says.
The second Skin Wellness location opened in May 2021 and has been consistently booking cosmetic procedures as well as attracting new clinical dermatology patients. The teams at both locations were happy to see that the public was eager to get out into society again and look their best after periods of stay-at-home orders and shutdowns. "I followed my heart with building a second practice. Now patients enjoy a great experience with a facility with medical services on one side and cosmetics on the other," he says.
To maintain a cohesive and well-trained team, the practices are closed on the first Thursday of each month, and the entire staff gets together to hear from a speaker in the industry to learn about new products and procedures. Following the presentation, they break out into groups based on their specialty to discuss pertinent matters. "This keeps me on top of things and instills camaraderie. We recently did a scavenger hunt around town dividing into teams and posted photos on social media. We like team building to break up the monotony of day-to-day practice," says Dr. Hartman.
ENJOYING DOWNTIME
In his limited spare time, Dr. Hartman loves to travel and explore new places with his family. Two years ago, they rented a house in the South of France and explored a different city each day to "expose the kids to new cultures and just relax and spend time together," he says. To stay active, he likes CrossFit, hot yoga and playing tennis. He tries to read a book a month, from fiction to business ownership and of course "magazines like MedEsthetics that are geared toward my field."
Dr. Hartman and his family also recently gathered to celebrate an exciting milestone. "My parents recently celebrated 50 years of marriage and they continue to be an inspiration to me," he says.
PATIENT SATISFACTION
Skin Wellness Dermatology continues to thrive with an influx of new patients and the return of longterm patrons. To keep patients looking their best, the practice encourages patients to pre-book their injectables. "I counsel cosmetic patients to stick with the recommended appointment schedule for their Botox, since it's both corrective and preventative for wrinkles," he says.
His tip for natural-looking lip filler is to "do a little at a time instead of a large syringe once every 12 months or so. The less you do, the less it swells and doesn't look so obvious," he says. For clear, glowing skin, he recommends BBL (broadband light) treatments, which reduce unwanted pigment and relieve redness, about three to four times a year. And of course, he welcomes new followers to his Instagram page so they can get a glimpse into the sometimes exciting, always fulfilling, world of being a top-rated dermatologist and aesthetic practitioner.