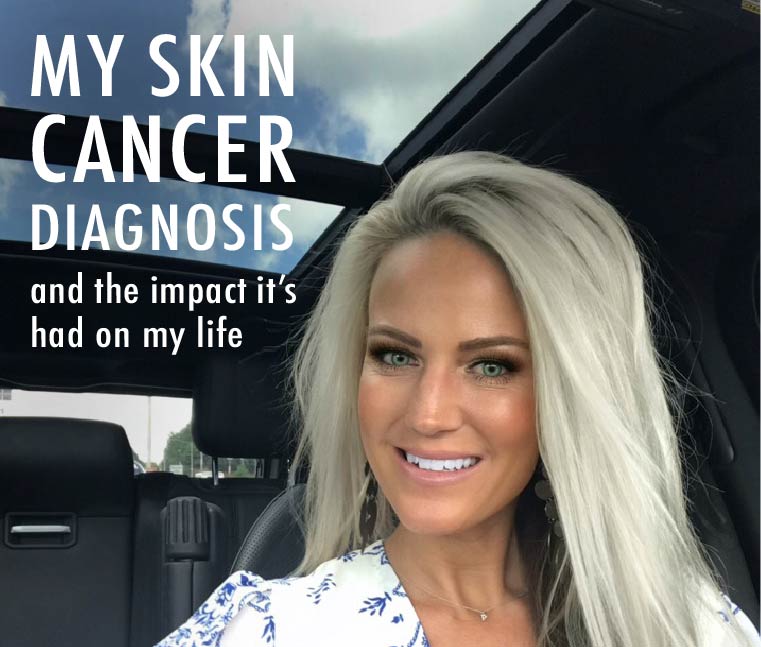 By Brooke, Patient of Skin Wellness Dermatology
When I was younger, I enjoyed going to the tanning bed and laying out in the sun, like we all did back then. I wanted to have a nice tan, and because of this, I never put on sunscreen as I should have. 
In all reality, I didn't start taking care of my skin until my late 20s, early 30s, though looking back, I wish I'd started much sooner and realized that skin cancer can – and does – happen.
How I Found Out I Had Squamous Cell Carcinoma
In 2017, I had a spot come up on my left cheek that was about the size of a pinky nail. It would go from camouflaging with my skin to getting really red. Then it just stayed red for four months straight and even got a flaky feel to it – like a dry patch. That's when I knew I needed to have it checked out by a doctor. 
In December of 2018, I called Skin Wellness Dermatology in Chelsea, AL, since I'd always heard fantastic things about them. I got an appointment with Dr. Brittany Rigsby, and she did a biopsy and sent it off to the lab. It wasn't long after that she called to tell me that the results came back – it was squamous cell carcinoma 
I can't say that I was really surprised; I felt like there had to be something going on if it was staying red and not going away. Really, at that time, I was just thankful that I'd made the decision to get it checked out. 
Going Forward with Mohs Surgery
There wasn't a whole lot of time in between finding out I had skin cancer to having it removed; it all happened within about a month. The staff at Skin Wellness Dermatology was really great and aggressive about setting me up with a fantastic surgeon, Dr. Chris Hammond, to perform the Mohs surgery. 
Of course, I was really nervous since I didn't know what to expect, but the removal process was very easy, from setting up the appointment, all the way to post-op. 
The day of the procedure, I got to the doctor's office early in the morning, and they numbed the spot, cut about an inch off my skin, got all of the skin cancer out, and sewed me up. I had about 10-15 stitches, and the entire procedure took only 20-30 minutes.
The post-op process was really simple, and I just kept putting Neosporin and vitamin E oil on it constantly, along with the scar cream Dr. Rigsby had given me. I just "babied" it and tried to take really good care of it in order to limit the scarring.
What I've Learned from My Skin Cancer Diagnosis
My whole skincare routine has changed, and one of the biggest changes I've made is that I put on sunscreen every single morning, and let me assure you, I most definitely don't use tanning beds anymore.
This whole experience has really changed my life. I find it so important to reach out and share my story with others who are frightened and going through the same thing. Since I've been through it, I can tell them that it's going to be okay and just encourage them to take care of their skin from this point forward. I had a treatable diagnosis and a great outcome at Skin Wellness.
Learn more about skin cancer prevention and treatment from Skin Wellness Dermatology in Birmingham, AL
At Skin Wellness Dermatology of Alabama, we offer cutting-edge skin care and dermatology services to our patients in the Greater Birmingham area, including Hoover and Homewood. At our offices in Birmingham & Chelsea, AL, our certified dermatologists are here to listen to your concerns and offer the individualized, high level of patient care you seek. We believe in making care accessible and affordable, and we will go out of our way to accommodate your visit. Give us a call today at 205-871-7332.