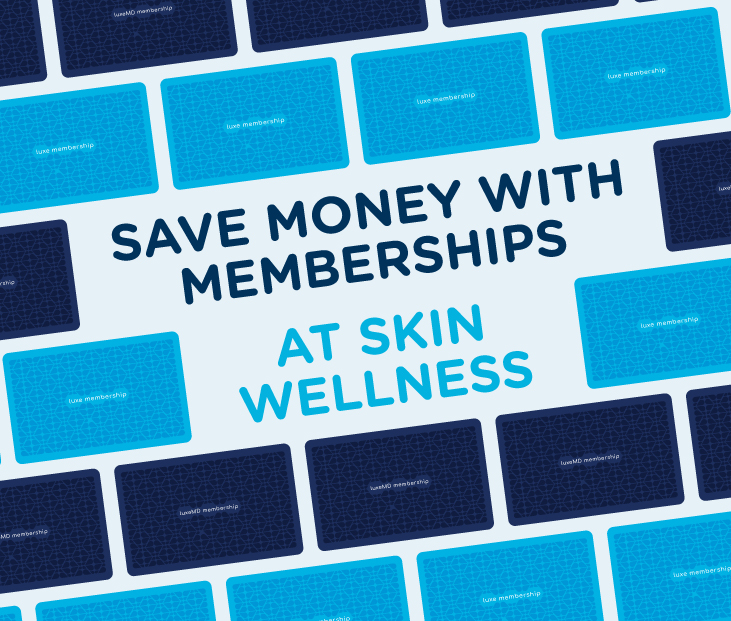 Memberships at Skin Wellness
At Skin Wellness, we want all our clients to benefit from the outstanding discounts and perks we offer. Our team is thrilled to announce that we are re-launching our memberships at Skin Wellness! We offer two memberships, LUXE and LUXEMD, each jam-packed with savings.
Our LUXE membership offers three different levels of benefits, and our LUXEMD membership gives you access to a variety of benefits for 12 months. Let's dive into the details of all the perks available with each membership at Skin Wellness.
LUXE
The Skin Wellness Luxe membership program gives you exclusive access to discounted pricing on our extensive range of procedures and products. There are three membership levels available, with prices starting from $75 per month. Each membership level includes your choice of one of the services listed and a product bonus. They also all come with a free Aesthetic Consultation to help you get started.
Gold Membership ($75 per month)
With the gold membership, you gain access to discounted products and free treatments. Enjoy 15% off all products like cleansers, toners, and moisturizers. Take your pick of three services for a free treatment each month, with up to $400 in savings. You can choose between dermaplaning, a very superficial peel, or HydraFacial Perk for the Lips or Eyes. These treatments are designed to rejuvenate and refresh your skin for a radiant appearance!
Platinum ($130 per month)
Enjoy 20% off all products, plus one of the following each month: signature HydraFacial, superficial peel, Laser hand treatment, or PicoSure Laser Rejuvenation. As a platinum member, with over $2000 in savings, you can take advantage of all Skin Wellness has to offer! Whether you want to remove unwanted body hair or maintain smooth skin, you can find a free treatment to suit your needs.
Diamond ($200 per month)
For only $200 a month, our diamond members gain top-tier benefits. These members receive a 25% discount on all products, in addition to one of these services each month:
Deluxe HydraFacial
Clear + Brilliant treatment
BBL/IPL treatment
Medium-depth peel
Microneedling
With up to $3000 in savings, explore a multitude of skin and body treatments at Skin Wellness!
If you choose the platinum or diamond memberships, you have access to treatments from all the levels up to yours. For instance, a diamond member has full access to all treatment choices that platinum and gold members can choose from!
LUXEMD
If you purchase our LUXEMD card, experience outstanding savings and benefits for a full 12 months. Our LUXEMD members can take advantage of all of the following perks after receiving their card:
One Complimentary Consultation with an MD ($250 value)
Botox at $11 per unit (20 unit minimum)
$200 off a Phase II treatment of Filler
$300 off a Phase III treatment of Filler
10% off one Profound treatment
10% off one CoolSculpting treatment
10% off one Kybella treatment
10% off one Sculptra treatment
10% off one Genius treatment
10% off any resurfacing laser treatment (Fraxel, CO2, & Erbium) $800 minimum spend
Your choice of one:

a. 50% off three Laser Hair Removal sessions
b. 50% off three Laser Tattoo Removal sessions
c. 50% off three Vein Removal (Face) sessions

Your choice of one LUXE Platinum treatment
Exclusive offers and invitations
Explore these luxurious treatments and procedures at Skin Wellness today!
Become a Member at Skin Wellness
Take care of your skin and body at Skin Wellness. Our qualified team of experts is ready to help you look and feel your best. Call us at 205-871-7332 or contact us online to become a member and take advantage of these exclusive benefits today!