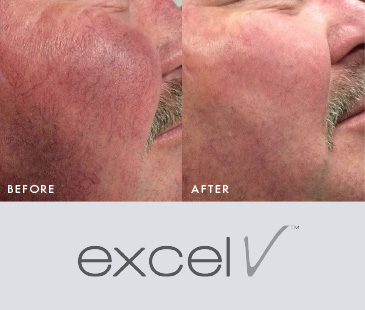 Skin Wellness is offering a new non-invasive medical aesthetic procedure that can help improve the appearance of your skin. That treatment is called Excel V Laser, and it is a laser-based skin treatment procedure that can help treat vascular skin conditions. Excel V Laser uses two ultra-precise laser wavelengths to deliver precision treatment, and it can be used to treat things from spider veins to pigmented lesions. Read on to find out what makes Excel V Laser treatments so unique and how you can benefit from them.
What Can Excel V Laser Treat?
Excel V Laser can be used to treat a wide variety of skin conditions. Among the conditions Excel V Laser is used to treat are facial veins (or rosacea), leg veins, mild to moderate inflammatory acne, fresh bruising that has happened within 24 to 48 hours, benign pigmented lesions and global pigment, like sun damage. Excel V Laser can also be used for hair removal on patients.
How Is Excel V Laser Different From Other Treatments That Skin Wellness Already Offers?
Skin Wellness offers a wide variety of treatments for clients that are looking to improve the look and feel of their skin. Excel V Laser is different than any treatment offered before. Excel V Laser technology includes just one device (with two lasers). However, it has the capability to treat nearly 20 different indications — on all skin types. Also, Excel V Laser treatment offers the broadest capabilities to treat the widest range of vascular to benign pigmented lesions — so a large number of people can depend on it to help them improve the quality of their skin. One of the best benefits of Excel V Laser treatment is that the results are immediate: When you leave the office, you will most likely see a marked improvement in your skin condition.
If you are thinking about getting Excel V Laser skin treatment, get in touch with us at Skin Wellness. We can help you decide what the best way is to treat your skin conditions — whether you suffer from benign pigment lesions, rosacea, acne or more.