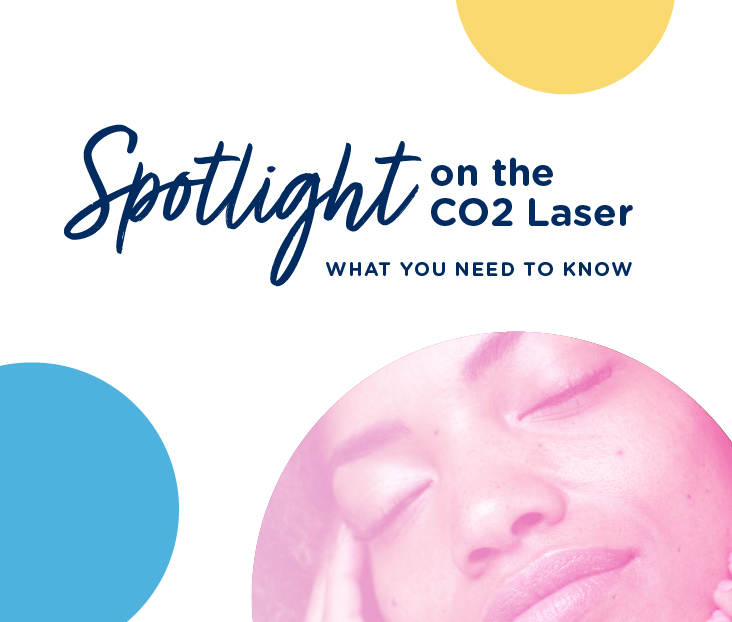 By Dr. Corey Hartman
A survey involving over 2,000 Americans shows that just under 60% of people don't feel confident in their own skin because of acne, scarring, eczema, expression lines, or wrinkles. However, thanks to the wide range of skin rejuvenating options out there, you no longer have to deal with these imperfections.
One of the minimally invasive, safe, and efficient ways to breathe new life into your facial skin and regain your youthful appearance is through CO2 laser skin resurfacing. Similar to other skin resurfacing techniques, CO2 laser skin resurfacing promotes new healing and regeneration in the skin, encouraging young and healthy cells to replace old, damaged cells. But carbon dioxide lasers come with even more advantages. Skin Wellness Dermatology offers this helpful guide to CO2 laser skin resurfacing.
What is the CO2 Laser?
Our skin has the power to regenerate and rejuvenate itself—an ability that allows the cells of the outer layer of the skin (epidermis) to constantly replace and repair themselves. Most of today's skin rejuvenation treatments are based on the natural principles that make our skin such an incredible organ.
In particular, CO2 laser skin resurfacing treatments are based on the principle that your skin will always recreate its outer layers with newer, stronger, and healthier cells. Ablative lasers, such as the CO2 laser, work by precisely removing layers of the epidermis, causing minimal, controlled trauma to the skin.
When the outer layer of the skin is removed, the skin underneath triggers the natural healing process, stimulating the production of collagen fibers. Over time, the outer layer of skin will regrow looking tighter, softer, more elastic, healthier, and younger.
While the CO2 laser technology is not new, it is finding new applications to:
Reduce the appearance of wrinkles
Reduce age spots
Even out skin tone
Repair sun damage and acne scars
Reduce the size of enlarged pores
Reduce or eliminate hyperpigmentation (blemishes)
The Procedure
The CO2 laser skin resurfacing technique is minimally invasive and does not involve scarring. To prepare for it, follow the instructions of your clinician by avoiding deep facial peels, extreme tanning, or prolonged exposure to UV rays. Make sure to clean your skin and come to the appointment without makeup or other lotions.
Depending on the size of the treatment area, the procedure should take around 30 to 45 minutes. Once the procedure is completed, your skin will look a little sunburned. You might also notice some blistering during the first hours after the procedure is completed.
After a week, your new skin will become dry and start to peel. Then, it can retain some redness for up to three or four months after the treatment. The healing process is usually completed after a year. Some tips to take the best care of your skin during this period include:
Use an extra pillow to elevate your head
Reduce swelling and discomfort with ice packs
Refrain from smoking to speed up the healing process
Keep the area clean with a saline solution
Use sunscreen for sensitive skins
Use protective skincare treatment
The Results
The results you will see from CO2 laser skin resurfacing treatment vary. However, this procedure is considered to have an extremely high success rate and can reduce the visibility of wrinkles by over 80%. Depending on the kind of treatment you choose, you might need more than one session to achieve the desired results. Some benefits of skin resurfacing include:
Tighter skin
A younger look
Reduced skin sagging and excessive elasticity
Reduced pores size
Reduced visibility of scarring and age spots
Results that last several years
Discover What CO2 Laser Can Do For You
Today, there are several types of facial interventions that can help you regain the youthful beauty of your skin without undergoing surgical procedures. However, picking the right one for your needs can be challenging. Get in touch with Skin Wellness Dermatology to understand whether the CO2 Laser skin resurfacing technique is the best option for your needs and get all of your questions answered.
Schedule your CO2 Laser appointment today!
CO2 laser skin resurfacing is one of the most powerful cosmetic methods for turning back the clock. To see an 80% decrease in the appearance of wrinkles, and to promote skin health and healing across the board, CO2 laser resurfacing is the way to go. To schedule your appointment, or to learn more about CO2 laser technology, visit Skin Wellness Dermatology of Alabama online, or call us today at 205-871-7332.