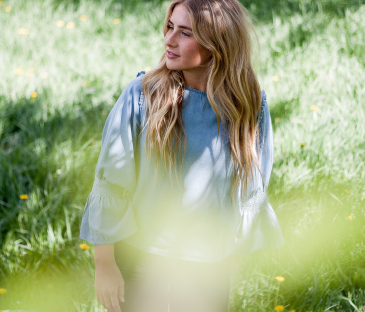 By: Dr. Corey Hartman, Skin Wellness Dermatology
Stretch marks are extremely common and can occur anytime in a person's life from when they're younger going through normal growth and development, to when they're older and gain or lose weight quickly. Of course, one of the most common times women tend to get them is during pregnancy.
As a form of atrophic scars, they can appear anytime the skin expands, and its underlying structure is damaged. As a dermatologist, I've found that many of my patients find them to be extremely bothersome, often having false hope of getting rid of them with oils and lotions that may help the skin stretch more gently at best.
Fortunately, there are a variety of treatment options available that can greatly reduce the appearance of stretch marks, helping you get rid of them once and for all.
What are proven ways to get rid of stretch marks?
At Skin Wellness Dermatology of Alabama in Birmingham, we have a few ways we go about reducing the appearance of stretch marks. Depending on the person and severity, we may try a retinol cream first, as it's cheaper and easier option. From there, we'll move on to mechanical treatments like microneedling and laser. Other times, we may combine treatments from the beginning.
Retinol Creams for Minimizing the Appearance of Stretch Marks
As far as creams go, Retin-A, or tretinoin, is backed by research and has shown to make a big impact on the appearance of stretch marks. While Retin-A can also be beneficial for acne control and scaring, it works on stretch marks by producing collagen and allowing it to come to the skin's surface. While this cream may work for some, there are other stretch marks that are beyond this type of treatment. If the stretch marks are very wide or discolored with lots of red, creams such as these are going to do very little for diminishing their appearance, and that's when we move on to microneedling and/or laser treatment.
Microneedling for Stretch Mark Removal
Microneedling is a treatment used to stimulate collagen production on the top layer of the skin. By using a pen that has as many as 20 vibrating microneedles, it creates micro-injuries that increase the number of fibroblasts, resulting in the skin creating new collagen.
Each patient needs a series of treatments, and depending on their ability to tolerate the procedure, we'll do about six treatments a month. Since it can be somewhat uncomfortable, we'll typically numb the patient during the procedure, but there is very little, if any, downtime.
Getting Rid of Stretch Marks with the Fraxel Laser
Fraxel is a resurfacing laser, and it's the only FDA treatment cleared to treat stretch marks. It's also the best and most effective treatment out there. While penetrating the top layer of the skin, the Fraxel laser delivers heat that stimulates collagen growth while resurfacing the top skin layer.
Like microneedling, there's not really any downtime, though it does tend to cause more swelling. When it comes to the number of sessions, you'll still need a series of treatments, but not as many as microneedling.
Visit Us in Birmingham, AL Today for Proven Stretch Mark Removal Treatments
If you're tired of covering up your stretch marks, don't wait another day. Contact the team at Skin Wellness Dermatology of Alabama to set up a consultation. One of our doctors will be happy to meet with you to discuss available treatment options. Whether creams, microneedling or laser treatment, we'll find what's going to work best for you and help you get rid of those stretch marks once and for all.