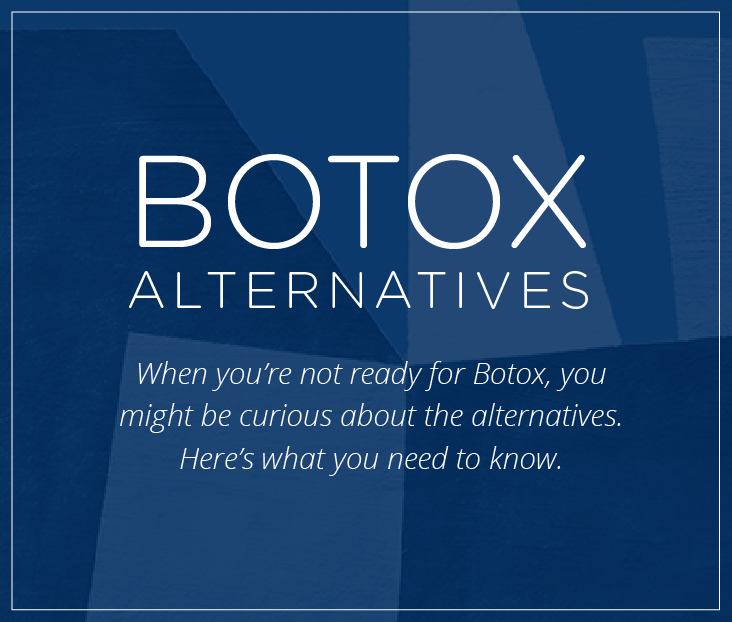 By: Dr. Corey Hartman, Skin Wellness Dermatology
You know Botox® is the gold standard for treating wrinkles and facial creases, but maybe due to financial reasons or the fact that you simply aren't prepared for injectables, you're just not ready to take the leap. 
When Botox is the best solution to improve my patient's concerns, but they aren't quite ready, they often ask me about the best alternatives. But are there any true alternatives to Botox?
Are there any good alternatives to Botox?
I'll say this in the beginning. There aren't any real alternatives to Botox. There are things you can do that might help to prevent wrinkles, but as far as giving the same treatment, it just doesn't exist. There's nothing else like it, and that's what makes Botox so great.
Three kind of, but not really, alternatives to Botox
Botox is quite literally one of a kind. But if you're not ready, here are a few things you can do to stimulate collagen growth and help prevent wrinkles:
Microneedling. Microneedling isn't a bad option since it's going to give that stimulation of collagen, which Botox is known to do. It will definitely help with some subtle fine lines that are there at rest, but it's not going to impact the deeper ones that appear as a result of muscle movement.
Chemical peels. Chemical peels are another option, but just like microneedling, they aren't going to impact those lines that appear when you move. They'll definitely get you a more modest improvement in the same areas that we typically use Botox to treat though. 
A solid skincare regimen. If you're not ready for Botox but want to do what you can to fight signs of aging, a good skincare regimen is essential and should include an antioxidant, a sunscreen, and a retinol. Plus, whenever you decide you're ready for Botox, a good skin care routine is going to be essential to its overall success.
Botox: Is it worth the cost?
If the cost of Botox is the one thing holding you back, you should know that there are a few ways the brand as well as individual dermatologists work to help patients out. Along with the Brilliant Distinctions program, some practices offer VIP or membership programs, along with specials throughout the year to help you save money. 
The truth is, even though there are things you can do, there aren't any real alternatives to Botox. That's the beauty of it. And if you're serious about treating wrinkles and building collagen, Botox is likely going to be your best, and maybe only, option. 
Learn more about Botox alternatives from Skin Wellness Dermatology in Birmingham, AL
At Skin Wellness Dermatology of Alabama, we offer cutting-edge skin care and dermatology services to our patients in the Greater Birmingham area, including Hoover and Homewood. At our offices in Birmingham & Chelsea, AL, our certified dermatologists are here to listen to your concerns and offer the individualized, high level of patient care you seek. We believe in making care accessible and affordable, and we will go out of our way to accommodate your visit. Give us a call today at 205-871-7332