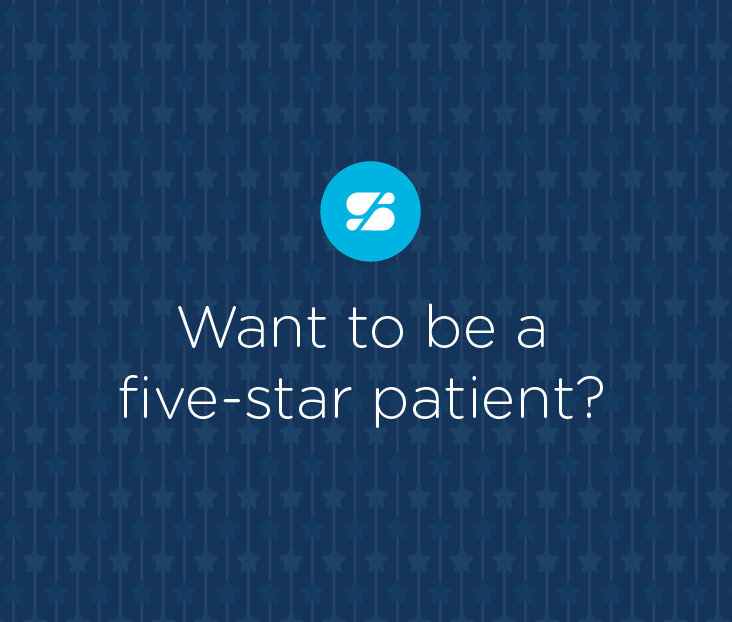 By: Dr. Corey Hartman, Skin Wellness Dermatology
From the title, you may think this post is going to talk about what you need to do to be a five-star patient. And it is. But on a deeper level, it's really about helping me be your five-star dermatologist. 
In many cases though, in order to help you, I need you to help me. When we both do our part, your appointment is going to be efficient and effective, and ultimately, this means we can get you to the results you're looking for in the shortest time frame possible.
How to be a five-star patient before, during and after your appointment
I value all of my patients. I want each and every one of them to get as much out of each appointment as possible, and in order to make this happen, there are certain things we need to do.
Below, I've laid out exactly what you need to do before, during and after your appointment so that you can get the absolute most out of it, and I can give you my very best results.
Before your appointment:
Complete the necessary paperwork.

We try to make this as easy on you as possible with our electronic system. Once you schedule your appointment, you'll automatically receive a link that takes you directly to the site that collects your information. From there, it's seamlessly put into our system. It's paperless, it's efficient, and it's good for the environment. It gets us all the information we need so that when you show up for your appointment, we can get you back as soon as possible.

Come mentally prepared.

If you're coming in for a rash, and you've seen four dermatologists about it, have that information with you so we don't miss or repeat anything. If you're on seven types of medications but don't know the names of those medicines, bring them with you or make a list. Better yet, send us records. 
If you're coming in for a cosmetic consultation, it's always great to bring your regimen and have working knowledge of the procedures you've had done. Doing so tremendously cuts down on the amount of work that we have to do in order to get to a point where we can help you.
Come physically prepared.

If you know we're going to be looking at a scalp issue, maybe remove your extensions. If you're coming in for a nail issue, take off your nail polish. If you want us to look at acne or pigmentation on your face, I really need to see you without your makeup. 
I liken it to a patient presenting to the cardiologist with a heart problem and then refusing to take their coat off. No cardiologist is going to be able to listen to your heart through your coat. Nobody would even ask that! 
I get it, maybe you're coming in for a problem that you're not comfortable showing to the world, but just be prepared to remove your makeup when you get here so that we can really give you our best. 
During Your Appointment:
Be present and pay attention.

Be attentive, don't be on your phone, and only bring someone with you if you need help remembering all the information. This is

your

appointment where we need to discuss your issue and provide answers to your questions. Trust me, with others in the room, this can quickly become extremely difficult.  
We know we're giving you a lot of information, but we're going to send you home with a written reference. Don't throw this way – I repeat – do not throw this away. This one document alone will provide you with 90% of the questions you're going to call us with.
Prioritize your questions.

We're an office that prides ourselves on running on-time, and we believe most of our patients respect and appreciate that. But we're only able to accomplish this by having visits that are efficient. We may not be able to answer all six questions on your list at every visit, but we're always guaranteed to talk about at least two so know which ones are most important to you. 
After your appointment:
Let us know if you have any trouble getting your medications.

We can't know if there's an issue with your prescription unless you tell us, and you can't be compliant with the regimen unless you get your medicine. The last thing we want is for you to go on a three-week wild goose chase until you can finally be compliant.
We utilize the pharmacies we've found to be the easiest for patients to work with. When we send you to these specialty pharmacies, there's nothing in it for us. We're just trying to get the medicine to you as easy as possible. On that same note, you're always welcome to purchase products from our office. Again, nothing in it for us. It's simply for your convenience.
Use the patient portal, not the phone, whenever possible.

As with any doctor's office, the more we can get all non-essential calls off the phone, the better, and our electronic medical records system allows us to do just that. It has a patient portal, which every patient is automatically enrolled in, that allows you to directly communicate with your provider, nurse practitioner, or anyone in the practice in an encrypted HIPAA-compliant manner, unlike email. 
If you send me a message through the portal, I'm going to get it way quicker than I would a phone message, and you're not going to have to go through a bunch of people to get to me. You're going to get a faster response, and we can discuss anything you want.
We want to be your five-star dermatology practice
I've spent this time talking about how you can be a five-star patient, but really, these tips allow our practice to better serve you, the patient. If there's anything about your visit that you weren't completely wowed about, we want to know. Our #1 goal is for patients to leave here feeling better about themselves than when they walked in the door. 
If there's ever a reason that didn't happen, we want you to share that with us. Give us a chance to look into it, make it right, and make you happy. After all, as a five-star patient, you deserve it. 
Learn more about effective and efficient dermatology appointments from Skin Wellness Dermatology in Birmingham, AL
At Skin Wellness Dermatology of Alabama, we offer cutting-edge skin care and dermatology services to our patients in the Greater Birmingham area, including Hoover and Homewood. At our offices in Birmingham & Chelsea, AL, our certified dermatologists are here to listen to your concerns and offer the individualized, high level of patient care you seek. We believe in making care accessible and affordable, and we will go out of our way to accommodate your visit. Give us a call today at 205-871-7332.