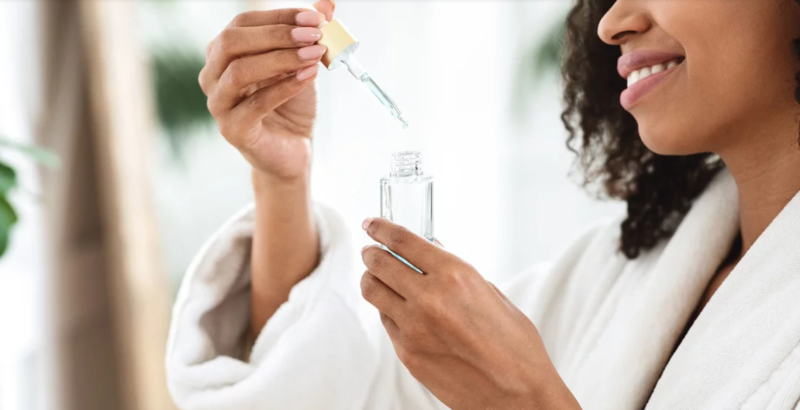 By Melanie Rud January 21, 2021
I know, I know — you might be sick of hearing about skin-care oils. After all, there are approximately 10 billion of them (maybe I'm exaggerating, but you get the picture). That said, of all of the many oils you may have seen or heard of, there's one that flies somewhat under the radar, yet deserves some time in the spotlight. I'm talking about sea buckthorn oil, an oil that's truly unique among its counterparts, thanks to a laundry list of skin benefits.
Sea buckthorn oil is extracted from the berries, leaves, and seeds of the sea buckthorn plant, a small shrub that grows in the Himalayan region, explains board-certified dermatologist Corey L. Hartman, M.D., founder of Skin Wellness Dermatology in Birmingham, AL. "It's rich in many vitamins, minerals, and antioxidants and is referred to as a super fruit of skin care," he says. And because sea buckthorn oil can be either applied topically or ingested, it also has a litany of health benefits, including lowering blood pressure and reduced risk of heart disease and cancer, points out dermatologist Purvisha Patel, M.D., founder of Visha Skincare.
But back to the skin-care side of things. The oil is one of the only ones to contain all four types of omega fatty acids — omega-3, omega-6, omega-7, and omega-9, notes Dr. Patel. "This makes it a good oil to help repair the skin barrier in inflammatory conditions such as psoriasis and eczema," she adds. It also makes it deeply hydrating, a choice pick for anyone dealing with extremely dehydrated skin. (Related: The Best Eczema Cream, According to Dermatologists)
That being said, pretty much anyone can benefit from incorporating sea buckthorn oil into their skin-care regimen; the vitamin, mineral, and antioxidant profile makes it ideal for improving the overall health (and appearance) of the skin, says Annie Gonzalez, M.D., a board-certified dermatologist at Riverchase Dermatology in Miami, FL. Those antioxidants, in particular, neutralize skin-damaging free radicals, reducing the signs of aging, she adds. The oil is packed with tons of them, but is especially high in vitamin C and vitamin E. In fact, the sea buckthorn plant berries contain ten times more vitamin C than an orange, and are the third highest source of vitamin E in the plant world, points out Dr. Hartman.
So, what's the best way to work sea buckthorn oil into your routine? You can look for the oil in its purest form, in which case you should use it after or in lieu of a moisturizer. The point of a facial oil is to seal in moisture, and if you apply it before a water-based lotion or cream, the benefits of that moisturizer won't make it inside the oil layer, explains David Petrillo, cosmetic chemist and founder of Perfect Image. If you can't find pure sea buckthorn oil, you can most often spot it in lightweight serums, where it's combined with other hydrating ingredients, such as jojoba oil or hyaluronic acid, he notes. (Psst, serums can and should be applied under a moisturizer.) You also may want to save it for morning use. "Depending on which part of the plant it's extracted from, the oil can have a reddish, orange, or yellow color that can stain white bedding," cautions Dr. Patel. (It shouldn't have any tinting effect on your skin.)
Now for the million dollar question — what if you have acne-prone skin? These experts point out that sea buckthorn oil isn't pore-clogging in and of itself; it's safe for all skin types, adds Dr. Gonzalez. That being said, it is sometimes used in thicker creams or lotions that can be problematic for those with oily or acne-prone skin. In that case, seek it out in a product that's labeled as non-comedogenic (translation: won't clog pores) if you do want to try it. (Related: The Best Drugstore Acne Products, According to Dermatologists)