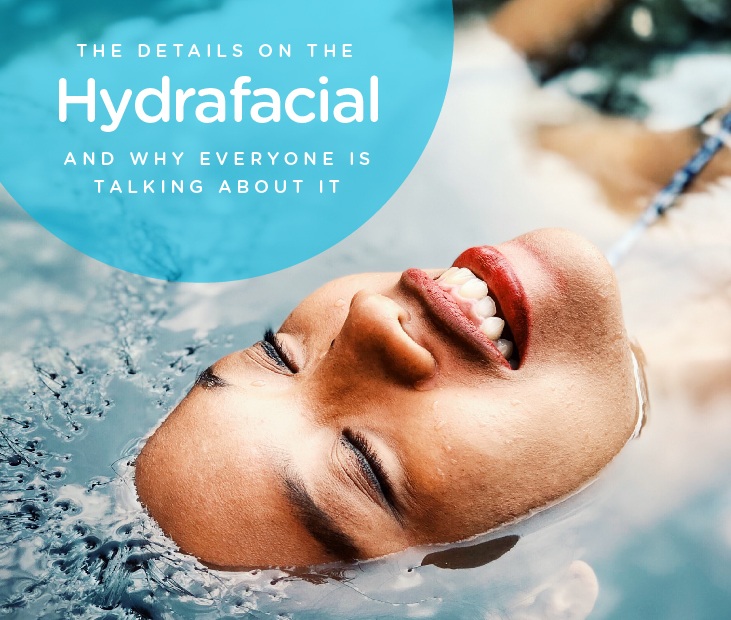 Looking to step up your skincare game? Then let us formally introduce you to the HydraFacial.
From improving the appearance of fine lines and wrinkles to restoring vibrancy and firmness, the benefits of the HydraFacial are just about endless. No matter if you're dealing with specific skin issues like acne or dark spots, or you just want healthier skin, you simply can't go wrong with the HydraFacial.
Give me the details on the HydraFacial
The HydraFacial is a 30-minute or 1-hour treatment that utilizes a medical-grade hydradermabrasion device. Basically, it combines peel, microdermabrasion, and hydrating masks all in one. 
That essentially means that the HydraFacial is going to:
*Reveal a new layer of skin by removing dead skin cells
*Decongest the skin and extract impurities 
*Cleanse, hydrate and moisturize the skin, leaving a beautiful glow 
The HydraFacial and its countless benefits
The HydraFacial is for everyone. No matter what type of skin you have or the issues you're currently dealing with, this is a treatment that's going to give you healthier skin – bottom line. 
Along with noticeable improvements in skin tone and texture, the first treatment is going to leave you with a youthful, radiant glow. Then, with regular treatments, the HydraFacial is going to improve a range of issues like fine lines and wrinkles, elasticity and firmness, enlarged pores, oily and congested skin, and dark spots. 
Even better, it's a treatment you'll actually enjoy, and it doesn't come with any downtime. Those who've toughed out harsh chemical peels and microdermabrasion may find that hard to believe, but it's true. You'll enjoy all the benefits of a chemical peel and microdermabrasion minus the discomfort during and post-treatment. You really can't beat that. 
Want to address specific concerns? No problem. 
While the HydraFacial is perfect for everyone, what makes it even better, is the fact that it can be tailored to target any specific concerns you have like dark spots or wrinkles. Just add in any of the serums below to make the HydraFacial just what you need. 
The Brightalive Boost improves discoloration.
The Growth Factor Boost minimizes fine lines and wrinkles.
The Dermabuilder Boost minimizes signs of aging.
The Britenol Boost improves the appearance of dark spots.
The HydraFacial – Let's talk results 
Whether your 16 or 60, the HydraFacial is so beneficial that we highly recommend it to anyone looking to improve the overall health of their skin.  Even if you're in your 20s, this is the perfect treatment to add into the rotation to help prevent signs of aging. 
Even though you'll want to do the HydraFacial about once a month to really see the long-term results, you're guaranteed to be thrilled with the radiant skin tone and smoothness you'll achieve after just one treatment!
Learn more about the HydraFacial from Skin Wellness Dermatology in Birmingham, AL
At Skin Wellness Dermatology, we offer cutting-edge skincare and dermatology services to our patients in the Greater Birmingham area, including Hoover and Homewood. At our offices in Birmingham & Chelsea, AL, our certified dermatologists are here to listen to your concerns and offer the individualized, high level of patient care you seek. We believe in making care accessible and affordable, and we will go out of our way to accommodate your visit. Give us a call today at 205-871-7332.