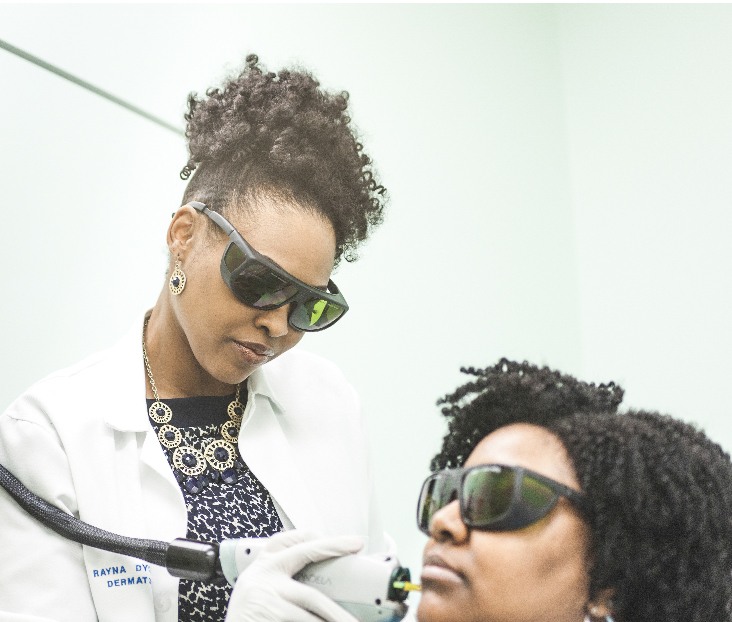 By: Dr. Corey Hartman, Skin Wellness Dermatology
Laser treatments have come so far in recent years that, believe it or not, they can dramatically improve just about any skin condition. From unwanted hair to stretch marks and melasma, lasers are often my go-to when I know a patient is ready to see results. 
Your guide to lasers and the conditions they're great at treating
With the various types of lasers and radio frequency devices out there, I thought it might be helpful to break down some of the most troublesome issues my patients experience, plus the most appropriate laser that will achieve the results they're after.
Remove unwanted hair. Hair removal is probably the most common laser treatment, and the Candela GentleLASE® and GentleYAG® devices are safe for all skin types. When patients are tired of shaving, waxing, and tweezing, the laser is definitely my first and only tried-and-true recommendation.
Treat broken blood vessels and red spots. If you have broken blood vessels and a lot of redness of the face, then the Excel V Laser is what we want to use. It's an easy treatment with little to no downtime.

The fact is, a lot of men and women deal with rosacea. If left untreated, those blood vessels, after years of contracting and dilating, are just going to get stuck and sit on top of the face. At this point, the only way to get rid of them is to use a laser. 
Resurfacing for acne scars, wrinkles and stretch marks. A lot of people come in asking about treatment for resurfacing, which can include anything from acne scars to wrinkles and stretch marks, and even pigment issues.  
For these kinds of issues, we're either going to use the Fraxel® laser, which is a non-invasive fractional laser, or the C02 laser, which is actually going to break down the skin. These work by making your skin peel, which in turn, lifts off the pigment.
Improve pigment issues such as melasma and brown spots. While the Fraxel and CO2 lasers are great for some pigment conditions, the PicoSure is my favorite for deeper pigment issues like melanoma and brown spots on the face.This is primarily because it can be very quick and targeted. It's like a sledgehammer breaking up concrete. It goes in and breaks the pigment up into small enough pieces so your body can get it into the lymphatic stream. 
This is actually the same laser we use for tattoo removal because, of course, a tattoo is just pigment they put into the skin. This is one of the few lasers that can reach deep enough to remove that pigment. 
Get rid of saggy jowls. While not technically a laser, Profound® RF uses radio frequency to help the skin build collagen and elastin. It's a minimally invasive treatment, so no surgery or injectables. It's the perfect treatment for someone who has sagging skin or loss of volume around the mouth, cheeks, and neck area. 
Finding the right dermatologist for your laser treatment
While laser treatments can really work miracles on a variety of skin conditions, you want to make sure you have someone who knows what they're doing. They need to know how to set the laser appropriately for your intended indication while also respecting your skin type and level of pigment. 
As long as you find the right dermatologist to perform your laser treatment, you're going to be thrilled with the results!
Learn more about laser treatments at Skin Wellness Dermatology in Birmingham, AL
At Skin Wellness Dermatology, we offer cutting-edge skin care and dermatology services to our patients in the Greater Birmingham area, including Hoover and Homewood. At our offices in Birmingham & Chelsea, AL, our certified dermatologists are here to listen to your concerns and offer the individualized, high level of patient care you seek. We believe in making care accessible and affordable, and we will go out of our way to accommodate your visit. Give us a call today at 205-871-7332.