What is Ellacor?
Ellacor is a revolutionary device from medical technology company Cytrellis. This minimally invasive treatment uses Micro-Coring™ technology to diminish wrinkles and age-related skin laxity in the mid to lower face. Clinical studies of Ellacor report a 91% improvement of moderate to severe wrinkles and a very high rate of patient satisfaction.
How Does Ellacor Work?
Ellacor is one of the first devices to use a ​​fractional tissue extraction process called micro-coring to rejuvenate skin. Advanced signs of facial aging, such as deep wrinkles and sagging skin, can be difficult to treat effectively without surgery. Ellacor can deliver smoother, tighter, younger looking skin without surgery and without any scarring. The Ellacor device allows for micro-excisional removal of excess skin with very fine hollow needles. The needles are small and precise enough to reach the full thickness of the skin without leaving any scarring.
Benefits of Ellacor
No incisions or scarring
Removes excess, sagging skin
Diminishes the appearance of wrinkles
Can reduce the appearance of "marionette lines" and jowls
Results are visible while also natural-looking
In-office treatment with no general anesthesia needed
What to Expect?
A local anesthetic will be administered to the area to be treated to help you stay comfortable during your treatment. Once your skin is numb, your provider will strategically place Ellacor device to your skin to create micro-cores in a precise grid pattern. Excess skin will be removed through the hollow needles, but the micro-cores are so tiny that they will begin to heal almost immediately.
Ellacor Recovery
Recovery after Ellacor treatment typically takes from a few days up to a week of downtime. Common side effects include redness and swelling, but these should subside within a few days. You will be advised to keep the treated area covered with ointment for 1 to 2 days and avoid makeup and harsh skin products for one week.
Ellacor Results
Your individual results will depend on several factors, but most patients experience an improvement in skin laxity within several weeks of treatment. Two to three sessions are usually recommended with optimal results visible a few months after your final treatment. Results are long-lasting and you can improve the longevity of your results with a good skincare routine that includes sun protection.
Where can Ellacor treat?
Ellacor is FDA-approved for use in the mid to low face, including the cheeks, around the mouth, and under the chin.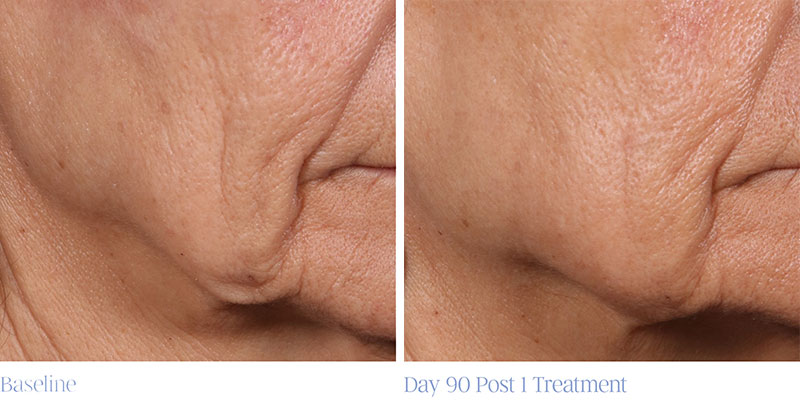 To learn more about the Ellacor™ for Wrinkle Reduction offered by Skin Wellness, please call our office at 205.839.7043