Genius™ Microneedling and Radio Frequency Device
With new sharper, sleeker, and smoother needles, the Genius™ microneedling device allows for more accurate needle insertion into the skin. Additionally, the system has a built-in feedback mechanism to ensure that the energies are being delivered to the skin appropriately and correctly. This treatment is ideal for tightening and firming the skin (jawlines, neck), wrinkles, and debilitating acne scars.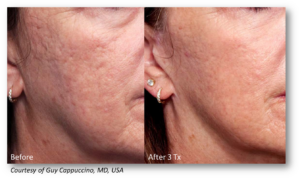 Genius is safe for all skin types and treats the following conditions.
Fine lines and wrinkles
Scar and acne scarring
Sagging skin
Overall aging
Face rejuvenation
Neck rejuvenation
What Can I Expect After Genius™ Treatment?
During the treatment, you will feel slight pressure and heat on your skin.  A  topical anesthetic is applied 90 minutes prior to the procedure to ensure patient comfort. You will notice some swelling and redness for a few days. Depending on the aggressiveness of the treatment, the redness may last somewhat longer.  In most cases, healing occurs in three days to a week. Makeup may be applied after 48 hours. Results can be seen after the first treatment with maximal benefits 12 weeks out. Your skin will continue to improve for about six months after the final procedure.
How Many Treatments Do I Need?
It is recommended to have 3 treatments spaced at least 6 weeks apart. For preventative treatments  (younger individuals wishing to prevent the signs of aging) one may be all that is needed. Some people may prefer one very aggressive treatment as opposed to a series of three. Maintenance treatments may be required.
Available on our VIP Membership