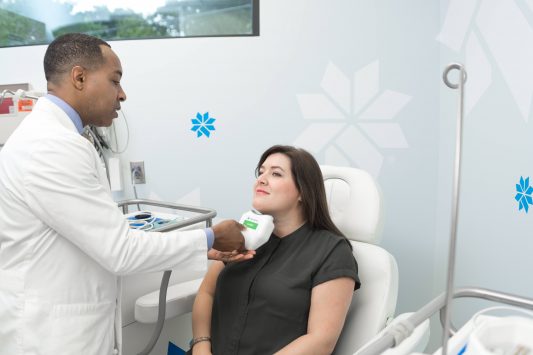 Tattoo regret? You're not alone. With over 40 million people tattooed, nearly 25% now want them removed. What once seemed like a good idea at the time now is a lifetime of regret. With all the lotions and creams and other removal myths out there, it's important that you understand that laser tattoo removal is a proven method for removing your tattoo for good.
Why Use a Laser?
Have you ever noticed that darker color clothes and apparel attract the sun's rays? Using the proper beam of light and q-switch technology, we are able to disrupt the ink underneath the epidermal layer.
How Does Laser Removal Work?
Laser energy is directed at the tattooed area for a matter of milliseconds, passing harmlessly through the epidermis and targeting the tattoo ink directly. The laser works as a chisel to disrupt and break down the ink, allowing your body to absorb the smaller fragments and break it down naturally. It's such a safe and effective tool that we offer a range of other laser dermatology services.
How Many Sessions Does It Take?
Every tattoo responds differently. Most amateur tattoos can be removed in 2–4 sessions, with professional tattoos on average taking 6–12. Colors may vary.
How Does It Feel?
It has been described as a warm snapping rubber band. If you remember getting it on, you can expect the same sensation to get it off. However, each session will last a few seconds to a few minutes and can be numbed with topical and/or local anesthesia.
How Much Does It Cost?
Each session's cost is affected by the size, color, and location of the tattoo. Unlimited packages are available. Please contact us at (205) 871-7332 or email us at [email protected] to schedule a consultation.
What Kind Of Laser?
We use the latest in Q-switch technology. Our device can treat a variety of inks and colors using four different wavelengths of PhotoAcoustic energy that penetrate the surface of the skin and shatter the ink into microscopic particles. With the shortest pulse duration and the quickest repetition rate, we can remove most colors of tattoo from any skin type.
At Skin Wellness Dermatology, we offer cutting-edge skin care, dermatology, and laser tattoo removal services to our patients in the Greater Birmingham area, including Hoover and Homewood. At our offices in Birmingham & Chelsea, AL, our certified dermatologists are here to listen to your concerns and offer the individualized, high level of patient care you seek. We even post articles to explain our procedures here.
Schedule a Consultation